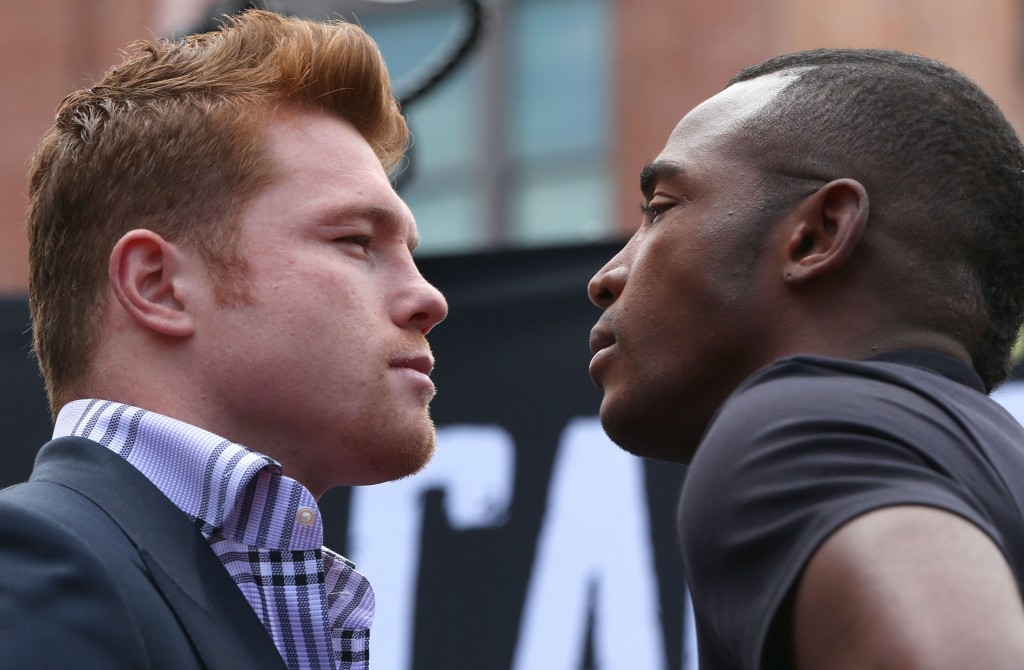 With all the excitement of the most watched World Cup in history, it is easy to forget that this Saturday the biggest Mexican star of the moment will climb into the ring for the second time this year.  Former WBA and WBC super welterweight champion Saul "Canelo" Alvarez will face Erislandy "American Dream" Lara in a special attraction bout to be contested at a catch weight of 155 lbs. at the MGM Grand Arena in Las Vegas, Nevada.  The event will be the second on Showtime PPV in which Alvarez headlines.
Despite Golden Boy Promotions' head honcho Oscar De La Hoya publicly announcing that he expects a sell out at the Grand Arena and that over twelve thousand tickets have been already sold, there are reports to the contrary.  There are suspicions that Golden Boy might just be papering the house as they have done before as well as other promoters in the past.
Alvarez first climbed in the main event of a PPV back in September when he faced the considered pound for pound king Floyd Mayweather Jr.  "Money" Mayweather Jr then proceeded to easily dominate the twenty-three year old Mexican.  Together they broke the record for the most sold Pay-Per-View in history with over 2.4 Million.
After that embarrassment, Alvarez announced that in 2014 he would fight three times, all by PPV.  At first it seemed a ludicrous goal but he proved to be a viable offer for the medium when in early March he stopped Alfredo "Perro" Angulo in ten rounds.  The fight sold 350,000 boxes for a solid inaugural fight for Alvarez as the "A" side with a $69.95 price tag.
Billed as "Honor and Glory", the Alvarez vs Lara contest is a much more competitive and attractive than Alvarez's last.  After defecting from his native Cuba on the heels of a very successful amateur career, Lara has been in search of his "American Dream" that can only be realized with big fights with equally as big purses.  The fact that Lara does not exactly possess a style that cries for love from the boxing masses, recently he has participated in a couple of fights that might have placed him as the best super welterweight in the sport.
The first one was back in June of last year when he met the canvas twice in a rock 'em and sock 'em barn burner against the aforementioned Angulo.  Just when the momentum seemed to be tilting towards the Mexican, Angulo landed yet another glove on the swollen left eye of Angulo which forced "Perro" to whimper back to his corner and refuse to fight.  Six months later Lara easily out-boxed former champion Austin Trout to win a twelve-round unanimous decision.
Alvarez also owns wins over both fighters.  He dominated with Angulo but struggled with Trout despite sending the New Mexico to the canvas.
This Saturday night's fight might just be the most competitive one Alvarez has been in to this point in his career.  Many questions will be answered about how good he really is inside the ring and outside of it when it comes to his selling power.  Will the World Cup final between Argentina and Germany scheduled for the next day affect his numbers? We will soon see.
---