Boxing History: December 26, 1986 Bobby Czyz KO 1 David Sears, West Orange, NJ. Retains IBF Light Heavyweight Title.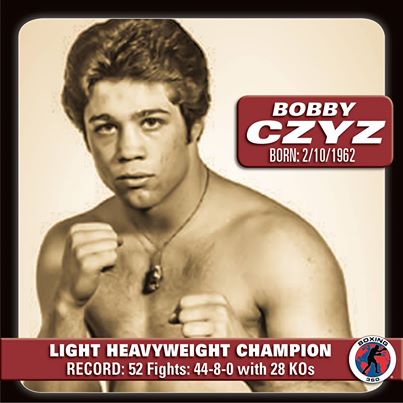 Robert Edward Czyz (born February 10, 1962) is a retired American boxer. A New Jersey native of Polish descent,[1] he is both a former world light heavyweight and cruiserweight champion.
Nicknamed "Matinee Idol", Czyz was a member of the United States amateur boxing team whose other members died in the LOT Polish Airlines plane crash in Poland in 1980. Because of an auto accident one week before the fatal trip, Czyz was not on the plane.
Czyz is a member of Mensa, the organization for people who have scored in the highest 2% of takers in an IQ test. He even wore a shirt with "MENSA" on it while walking to the ring to fight Evander Holyfield.
Amateur record of 24-2.
Shortly after suffering his first pro loss to Mustafa Hamsho, Czyz's father committed suicide. For nearly a decade, Czyz was a commentator for Showtime Championship Boxing. Polish-American Sports Hall of Fame inductee. New Jersey Boxing Hall of Fame inductee.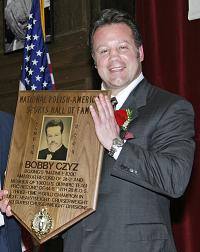 Bobby Czyz, was a member of the 1980 U.S. Olympic boxing team, was prevented from competing that year in Moscow due to the U.S. boycott of those games. Passing up numerous college scholarship offers, the 18 year old high school senior from Wanaque, New Jersey instead turned professional, promptly winning his first 20 fights as a middleweight. After moving up in weight, Czyz captured the IBF World Light Heavyweight Title in 1983 and the WBA Cruiserweight Title in 1991. In 1995, Czyz added the World Boxing Union Super Cruiserweight title to his long list of ring accomplishments. He retired from boxing with an impressive won-lost record of 44-8, with 28 knockouts.
---