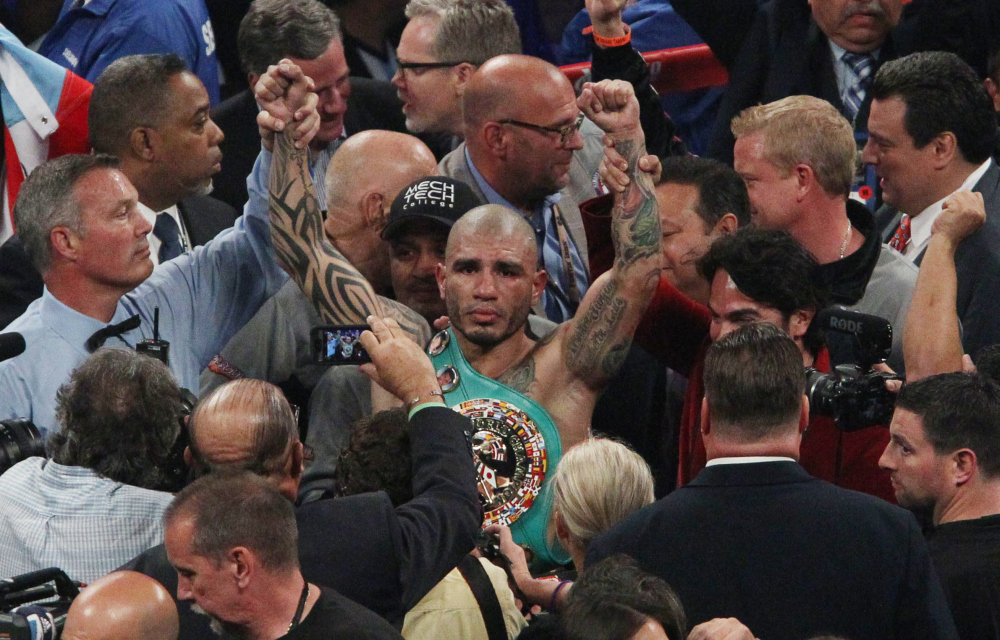 On Saturday night at the Barclays Center in Brooklyn, New York, WBC middleweight champion Miguel Cotto put together the missing piece for the next mega fight of the year in fall against Saul "Canelo" Alvarez.  Cotto, who weighed in just under the junior middleweight limit of 154 pounds at 153.6 lbs while his opponent, Daniel Geale, came in at the set catch weight of 157 pounds, stopped the Australian in four rounds with two impressive knockdowns in the only fight featured by HBO.  Seconds after the fight, HBO's Max Kellerman asked Cotto about Alvarez and the Puerto Rican said that he was ready for him to be next.
Alvarez did his part earlier this year when he stopped in even more impressive fashion James Kirkland in early May in Houston.  It is no secret that Alvarez has been after the Cotto fight for the better part of a year. The young Mexican knows that a win over Cotto will perhaps get him the credibility that he has been looking for.  Wins over champions Austin Trout, Erislandy Lara, Alfredo Angulo and the aforementioned Kirkland have not really convinced the general boxing public that he is the true super star that his handlers claim him to be.
Another reason Alvarez wants the Cotto fight is because it is the only potential match up that can hopefully tear the traditional Mexican Independence day date from one Floyd Mayweather Jr.  As of press time, it is rumored that Mayweather Jr has already put a hold on September 12th with the PPV distributors.  If Cotto vs "Canelo" gets made then it would give the distributors something to think about regarding that date.  Do they with the proven fighter in Mayweather and whoever he faces, which looks like Khan, or do they hitch their wagon to the new big star in the making in Alvarez?
Despite being ten years older than Alvarez, Cotto proved that he is still a fighter to be reckoned with based on his performance on Saturday night.  With Geale down to a weight that he had never been before, Cotto's strategy was to go after the body which he did very well.  By the second round he was coupling that thunderous left hook to the body with a left hook to the head.  Geale had his moments as he looked to score a right hand but it wasn't enough to hold Cotto off.  Early in the fourth they exchanged hooks but Cotto's got their hard and precise to the chin of Geale that sent him down near the ropes.  Geale beat the count but decided to mix it up with Cotto and a right to the forehead sent him down again. When asked if he wanted to continue, Geale declined giving the win to Cotto.
Cotto was also asked about the other middleweight elephant in the room, Gennady Golovkin, who was in attendance.  In front of an appreciative crowd, Cotto gave the longest uncomfortable pause ever heard on a boxing HBO telecast.  Obviously he said he would face him but that "Canelo" Alvarez is first.
Time will tell.
---