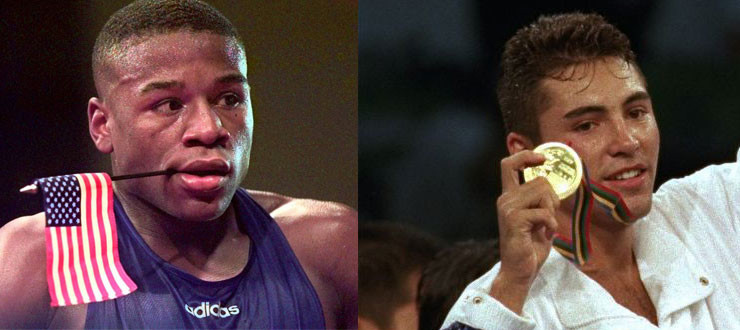 Last week we kicked off with our initial debate of the week topic. We chose to go with being worthy of Hall of fame induction as the subject of debate. We asked feedback on whether former world champion fighter and now successful trainer James  "Buddy" McGirt should be in the Hall Fame. Many did not even know that McGirt was not in the Hall of Fame. The overall opinion seemed to be that he rated to be inducted.
This week were looking at the 1992 and 1996 United States Olympic boxing team. The debate is to which team went on to have the better professional careers overall as a group. The focus is strictly on their professional careers. We're going to only look at the mainstream names of the group who went on to become world champions.
The 1992 team featured Oscar De La Hoya who ironically won the only gold medal of the group. His professional career was an outstanding one. He won 10 world titles in 6 different weight classes. He is was a part of multiple record setting pay per view events during his career and was a major draw for years attracted fans from all races both male and female who paid to see him fight live. He eventually started is own promotional company while still an active fighter which he successively runs to this very day. De La Hoya was inducted into the International Hall of Fame in 2014.
The 1996 team featured current pound for pound undefeated king Floyd Mayweather Jr. Many to this day feel that Mayweather Jr. was deprived of Olympic Gold where a questionable decision loss saw him leave with a Bronze medal. It has been nearly 20 years since this disappointment and Mayweather Jr. has not lost again since that night. He has won 11 world titles in 5 different weight divisions. Mayweather Jr. is the true pay per view king having smashed all of the major records in boxing capped by well over 4 million reported buys in his victory over Manny Pacquiao in his last bout this past May. Mayweather Jr. fought all the best of his era and his legacy is secure.  He will be a first ballot Hall of Famer for sure when he decides to retire.
The supporting cast
1992 team did produce world champions aside from De La Hoya in the late Vernon Forrest, Tim Austin, Montell Griffin, and Raul Marquez. Forrest defeated future Hall of famer and then unbeaten Shane Mosely in back to back fights where De La Hoya lost twice to Mosley. Byrd fought at 165 pounds in the olympics but went on to win the heavyweight championship of the world in the professional ranks. He had a few different reigns and appeared by many to be avoided for years.
In addition to Mayweather Jr. the 1996 team produced world champions Eric Morel, Zahir Raheem, David Diaz, Fernando Vargas and Antonio Tarver. Reid was the only one from the team who won the gold but it was Tarver who achieved the most fame outside of Mayweather Jr. This was highlighted by his two victories over Roy Jones Jr in particular the first fight. His fame would grow more shortly afterwards with his starring role in the hit movie Rocky Balboa.  Tarver is still actively fighting at a high level in pursuit of winning the heavyweight championship of the world. Vargas fought in the biggest fights aside from Mayweather Jr. as he squared off against De La Hoya and hall of famer Felix Trinidad coming up short against both. Vargas popularity was very underrated as he had a large fan following.
Those are the facts in a general summary. We want to hear from you on which class  you feel had the better overall success as professionals. We are aware that there are still active fighters from the group but please give your opinion based on what has been achieved to date.
---