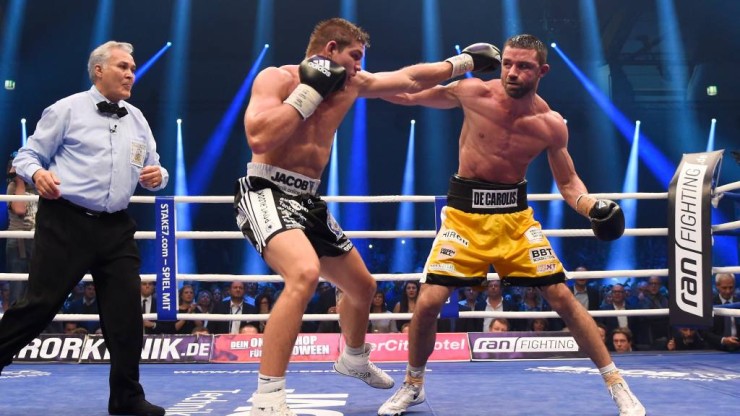 Our last selection came from the rematch between former world champion Juan Carlos Reveco (36-3,19kos) of Argentina and two-division world champion Kazuto Ioka (19-1, 10kos) of Japan. The two had squared off earlier in the year with Ioka winning a closely contested fight and winning Reveco's world title. They again fought in the hometown of Ioka  Osaka, Osaka Japan, However it was quite apparent early that each guy was not looking for a distance fight. Reveco was very aggressive from the start landing to the head and body of Ioka. When Ioka was on offense he was attacking fiercely to the body of Reveco. As the fight were on it was Ioka's strategy that was clearly having more effects on Reveco than vice versa. The end came in round 11 when Ioka landed a crushing body shot to end matters. Ioka retained his title world title and we extended our win streak as Ioka was our pick of the week.
This week we have chosen once again a rematch. It's between WBA interim world champion Vincent Feigenbutz (21-1, 19KOs) of Germany and Giovanni De Carolis (23-6, 11KOs) of Italy this Saturday. The first fight saw what some felt was a hometown decision awarded in favor to Feigenbutz. De Carolis dropped Feigenbutz in the very first round. Feigenbutz was not hurt badly as he beat the count easily on rather steady legs. De Carolis was very aggressive from the beginning to the end. Feigenbutz seemed to have his best moments in the championships rounds. In the end the officials judges all had Feigenbutz winning albeit by the slimmest of margins.
The rematch will again take place in Feigenbutz' native Germany. The stakes have been raised a bit as they will fight for the WBA full title instead of the interim world title. Andre Ward recently moved up to light heavyweight vacating his WBA Super champion super middleweight status. This left that slot vacant so the regular world champion Fedor Chudinov was elevated to super champion status. So now Feigenbutz and De Carolis will now fight for Chudinov's vacant regular title. I hope you followed all of that.
De Carolis scored the only knockdown of the fight but seemed to overwhelm Feigenbutz with punches more than hurt him. De Carolis doesn't have the smoothest technique but it is effective for him. His offense kept Feigenbutz on the defensive for spots in the fight. Feigenbutz to his credit showed he is plenty tough as he did engage De Carolis several times during the fight as well. Feigenbutz seemed to figure out De Carolis' rhythmn in the end. We think he will carry that over into the rematch. Our pick is Feigenbutz to win this fight at home and become Germany's youngest world champion in their boxing history at 20 years of age.
---