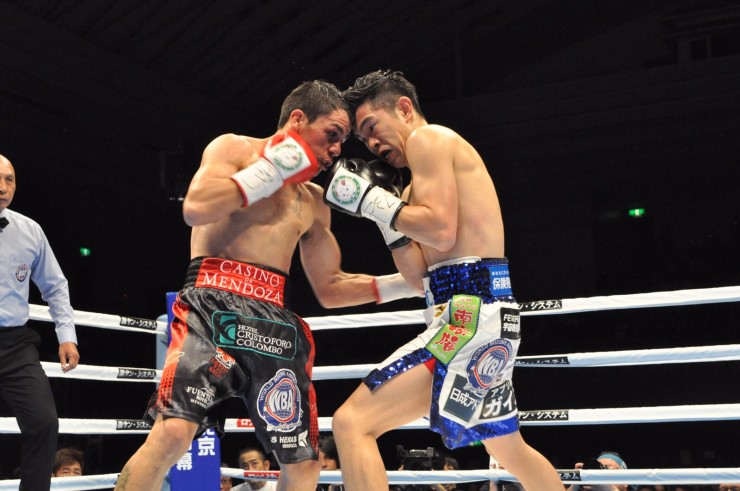 Our last selection came from the match up between now three-division world champion Akira Yaegashi (23-5, 12 Kkos) of Japan and then IBF world champion Javier Mendoza (24-3-1, 19kos) of Mexico.  Mendoza fighting for the first time as a professional outside of Mexico entered the fight as the favorite. Yaegashi had been knocked out in his last two world title fights. The fight took place yesterday at the Ariake Colosseum, Tokyo, Japan. Ohashi (Ohashi Promotions) will promoted the event.
The bout had good two way action throughout but it was Yaegashi who was in control. Mendoza as expected kept coming but it just wasn't enough. Yaegashi had been stopped in his last two world title fight but against very top opposition. This all forgotten vs Mendoza as he was never close to being stopped in this one. Mendoza for his part showed a good chin as well. The judges all had it unanimous for Yaegashi over Mendoza in the end. Yaegashi won his third world title fight in as many as divisions. We continued our in streak as Yaegashi was our pick of the week.
This week we have decided to go with the rematch between former world champion Juan Carlos Reveco (36-2, 19kos) of Argentina and two-division world champion Kazuto Ioka (18-1, 10kos). The fight will be held at the EDION Arena Osaka, Osaka, Osaka Japan which was the site of their first fight this past April. This is also Ioka's hometown. The first fight saw Ioka win a majority decision over Reveco. It was a close fight but you got the feeling that Ioka could have done better defensively. He has a major height and reach advantage over Reveco. When he used it he seemed very much in control and when he didn't the opposite. Reveco should be given credit as well as he was able to score alot on his much taller foe. We believe that Ioka will improve this time around where Reveco gave his absolute best the last time out but still came up short . Our pick is for the slightly favored Ioka to retain his world title.
Disclaimer: Boxing360's Pick of the week is strictly for entertainment purposes only
---