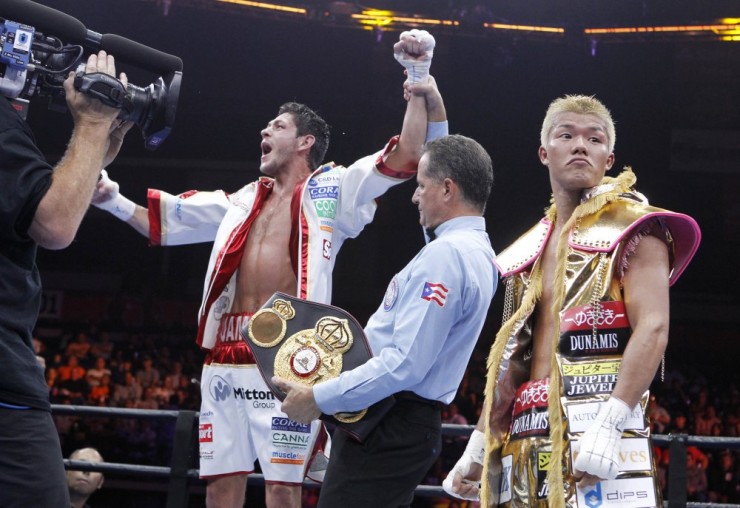 The highly anticipated matchup last week between unbeaten Leo Santa Cruz  (31-0-1, 17 KOs) a and former three-division world champion Abner Mares (29-2-1, 15 KOs) truly lived up to the hype.  We starting a new win streak as we picked Santa Cruz to win which he did by majority decision. One judge scored the fight even while the other two had Santa Cruz winning comfortably. This seemed more indicative of how the fight turned out in our opinion. Mares came out very strong indeed but never really seemed in control of the fight. Santa Cruz weathered the early storm and pulled away late in the fight. He was able to string together winning rounds together consecutively throughout the fight in route the exciting victory.
This week we have decided to go with the rematch between WBA Bantamweight world champion Jamie McDonnell (26-2-1, 12KOs) of the United Kingdom and former world champion Tomokoi Kameda (31-1, 12KOs) of Japan. Kameda was favored to dethrone McDonnell the first time around but McDonnell had other ideas. McDonnell overcame being dropped in round 3 to come back and successfully retain his world title. It was a very close fight with three judges having McDonnell winning by the slimmest of margins 114-113.
The rematch will take place in Texas just like it did the first time. This is an extremely quick turn around in today's modern day era of boxing. Especially in a world title fight. These gentlemen just fought each other roughly 4 months ago. Their first fight did not end early due to injury or knockout. Instead it was a hard fought 12 round completed fight. Neither guy will enter the fight with an edge on the short turn around.
You could kind of get the feeling that Kameda was the stronger fighter of the two. It was he who scored the only knockdown of the fight. McDonnell to his credit stuck to him game plan even though he fell behind early on the scorecards. That was very key that the knockdown happened early as it allowed McDonnell not to panic and get back in his groove. Kameda seemed to us that he could do more than he was doing. We think he will make the necessary adjustments and defeat McDonnell this time around.
Disclaimer: Boxing360's Pick of the week is strictly for entertainment purposes only
---