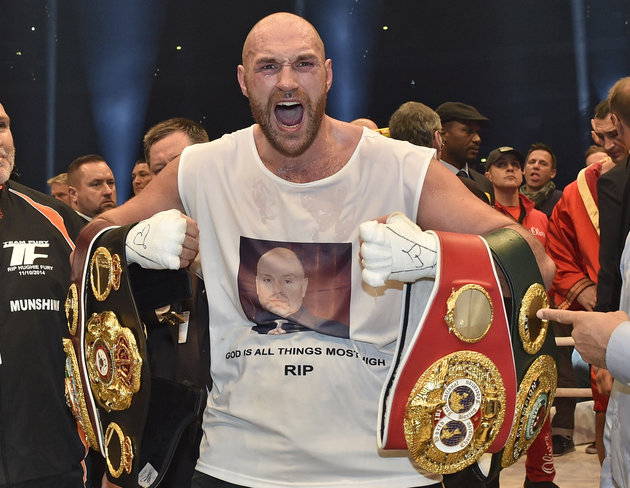 Unbeaten mandatory challenger Tyson Fury (25-0, 18 KOs) was a huge underdog entering his challenge of WBA/IBF/WBO heavyweight champion of the world Wladimir Klitschko (64-4, 54 KOs) this past Saturday. They were originally supposed to square off on October 24th but Klitschko pulled out due to injury leading to about a month's postponement.  Klitschko had not lost a fight in 11 years and was looking to make his 19th consecutive world title defense. HBO aired the bout which took place  at the ESPIRIT Arena in Dusseldorf, Germany.
Fury clearly carried the promotion for the fight with some wild  antics but very few boxing experts publicly gave him a chance to dethrone Klitschko. Fury clearly talked the talk but showed he could walk the walk as well. He established his game plan early without even throwing or landing many punches. What he did was set the tone for the fight neutralizing Klitschko's offense. This is something that is not so easy to do but Fury made it look that way. Klitschko seemed frustrated by the middle of the fight. Things didn't get any better for him the second half of the fight as Fury now was outlanding and outworking him. The judges had it right in the end all scoring it for Fury 115-112, 115-112, 116-111. Fury, the unanimous decision winner is now the recognized top heavyweight champion of the world.
The attention immediately following the fight went to questions regarding a rematch between the two. It was confirmed from both sides publicly that there was a rematch clause in place prior to their bout. The question now will be if Klitschko will want to fight Fury right away. This was no fluke win by Fury. His team had a solid game plan that took Klitschko completely by surprise. Klitschko has taken a lot of heat from fans regarding his ineffectiveness but Fury clearly deserves the credit for this. There could be a possibility that Fury could be allowed take an interim fight prior to a rematch which would likely land in his native United Kingdom. Fury for now can enjoy his victory as he backed up his talk with a huge victory.
---