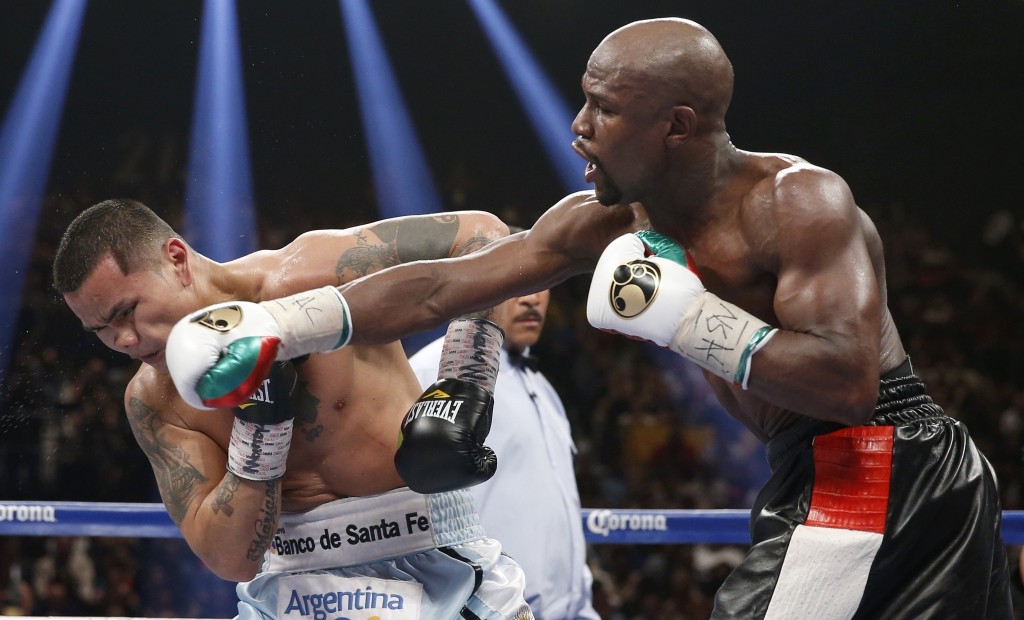 THE SAME "MONEY" MAYWEATHER BEFORE, DURING AND AFTER FIGHT WITH MAIDANA
With his second majority decision in a row, surprisingly the exact same scores, the best paid fighter on the planet Floyd "Money" Mayweather Jr added the forty-sixth win to his record against no defeats.  Twenty-six of his wins have come before the limit. His last victim was Argentinean tough guy Marcos "Chino" Maidana whose loss felt like a win although he ended up with a record of 35-4, 31KOs.  Mayweather Jr, the highest paid athlete in 2013, was guaranteed the healthy sum of $32 million for his third fight in less than eighteen months and is expected to make another $38 million from the back end to walk away with a hefty total of $70 million.  Maidana was guaranteed only 5% of Mayweather's purse at $1.5 million plus he will make some back end from the Argentinean TV rights among others sources.
For all intents and purposes, Maidana followed the game plan many have said would be the perfect way to fight Mayweather Jr.  To throw punches in bunches from different angles, never looking to hit the head but any other part of the body including arms, elbows, shoulders and hips.  Many feel, including Mayweather Jr himself, that Maidana took it a bit too far as he complained of punches to the back of the head, below the belt and a near knee to the face.  Maidana clearly didn't have any respect for Mayweather Jr before, during and after the fight and he made a point to show it.
Team Money, led by chief advisor Leonard Ellerbe, didn't help matters when a little over twenty-four hours before the WBC/WBA welterweight championship bout they complained of the custom Everlast MX gloves "Chino" Maidana was planning on using.  Ellerbe and Mayweather Jr complained that the blue gloves did not sufficient padding in the knuckle area of the glove despite it was proven that the glove was made under strict specifications set by Everlast. Mayweather Jr insisted that Maidana use his gloves of choice, the much more padded Grants.  Team Money even went as far as to threaten to cancel the fight, an empty threat which was seen as such by Maidana and his trainer Robert Garcia.
The commission approved a red set of MX gloves but at the end Maidana wore the much more padded Everlast Powerlock.  No word if he got compensated for the change.
Once the decision was announced, Mayweather Jr praised Maidana for his toughness and for executing his game plan.  He also mentioned that he stood in the pocket to give the fans what they wanted to see, a fight.  When asked if he would give Maidana the rematch, he mentioned he would and there are rumors that it is set for September 20th in Las Vegas.
Before that Mayweather-Maidana II can be confirmed, I am sure that Showtime, Golden Boy Promotions and Mayweather Jr himself must first look at the numbers and see if it makes sense to face the rugged Maidana again.  With Khan, who beat Luis Collazo in the undercard in a much to be desired performance, out of the running for September due to Ramadan and the cold war still in full swing despite Oscar De La Hoya sitting with Top Rank's Bob Arum last week in Los Angeles, there isn't many opponents for Mayweather Jr to choose from.
He might as well bite the bullet and fight the opponent he created.
---