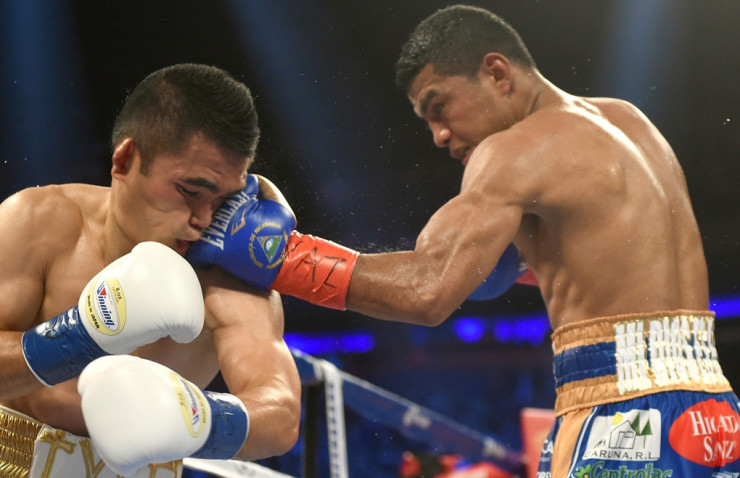 Undoubtedly one of the most anticipated fights for 2016 is the little man match up between current WBC flyweight champion Roman "Chocolatito" Gonzalez and Mexico's Juan Francisco "Gallito" Estrada. They have met once before in 2012 where Gonzalez defeated Estrada via points in a unanimous decision. The issue with that fight, at least for Estrada, is that it was in the junior flyweight division, a weight class that cost him a lot a work to get to. Since Gonzalez jumped up to the flyweight division last year to capture the title, the talk now has been a rematch between the two. The boxing work as well as Gonzalez consider Estrada the toughest challenge the Nicaraguan has ever had.
The problem now is that Gonzalez is asking for an astronomic amount to rematch Estrada once again. In his last fight, this past weekend on the under card of Golovkin vs Lemieux, Gonzalez pulled down a cool $200K but for a rematch against Estrada, Gonzalez is asking for at least a million or two.
Yes, you read that right, a million or two of American dollars. Greenbacks.
Now, it is not a unprecedented amount. Back in in the early 90's, Michael "Manitas de Piedra" Carbajal and Humberto "Chiquita" Gonzalez both made that amount to face each other but those were different times in the boxing world. Even though Floyd Mayweather Jr has reached untouched heights in pay for a boxer, so much so that he has reigned supreme for the last couple of years as the best paid athlete in the world, the same can not be said for the rest of professional fighters especially the lighter weight classes.
When Carbajal and Gonzalez made that amount, Gonzalez was considered one of most popular fighters in Mexico while Carbajal was media darling in the United States. Although "Chocolatito" Gonzalez has gained some traction with the American boxing public since he began to sharing the bill with Gennady Golovkin, he can not be considered at the level of Carbajal or Gonzalez in terms of popularity. Although Estrada is gaining some numbers in Mexico, he is not considered at the level that "Chiquita" Gonzalez enjoyed back in the 90s.
Estrada since "Chocolatito" Gonzalez's last fight has publicly stated he wants the rematch as his next fight. He also mentioned that although he wants to get paid a good purse, it doesn't have to be nearly as large as what Gonzalez is asking for. In recent interviews he seems surprised at the attention Gonzalez is receiving and according to him the Nicaraguan is not as good as everybody makes him to be.
Now that just might be sour grapes.
Gonzalez stated there is no other fight he wants but the Estrada rematch but they need to get paid. That is a valid request but the amount might be just out of his reach. If he made $200K in his last fight, wouldn't half a million dollars for the rematch be a good pay? Remains to be seen.
---