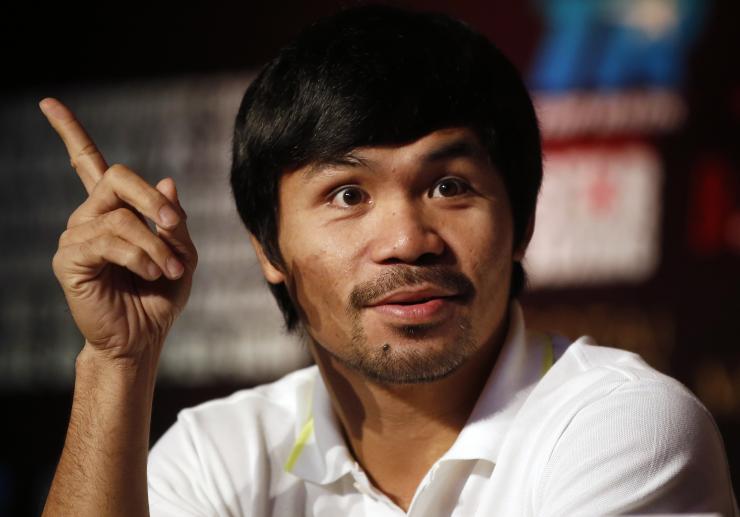 It is hard to believe that Manny Pacquiao could find himself in even more hot water.  As the entire world now knows, after his decisive unanimous decision loss at the fists of Floyd Mayweather Jr earlier this month, Pacquiao went public and stated that he had a hurt shoulder and was only at about sixty percent whole for the fight.  With the Pay-Per-View buys reaching an unprecedented near five million, it is said that after all is said and done Mayweather Jr will make 200 million while Pacquiao 150 million.  With that payday, Mayweather Jr and Pacquiao top the ESPN The Magazine best paid athletes and 1 and 2 respectively.  Behind them? None other than Lionel Messi, Cristiano Ronaldo and Formula 1 driver Sebastian Vettel to round out the top five.  The shoulder story, whether true or not, was an obvious ploy by the Filipino to try to secure a rematch with the pound for pound king and make another boat load of money.
Well, it backfired.
One thing that Pacquiao was not counting on was the fans taking umbrage of him not entering the ring in the most lucrative fight of all time less than one-hundred percent.  Since then, nearly forty class-action suits have been filed against Pacquiao.  In the lawsuit, fans claim they injury should have been disclosed prior to the fight and thus many of them would have not paid the $90 to $100 Pay-Per-View price tag let alone traveled to Las Vegas.  The kicker though is that legal experts state the lawsuits don't really have a leg to stand on since Pacquiao did not have any contractual obligation with fans or PPV buyers.
The fact that Bob Arum, Pacquiao's promoter, has gone on record to state that Pacquiao was in fact at one hundred percent at the time of the fight can't help.  At first Arum went with the story and corroborated Pacquiao's story of asking the state athletic commission to allow him to have an injection prior to the fight which the commission denied.
Now the founder of Top Rank has changed his tune.
Bob Arum said that two weeks prior to the fight Pacquiao's doctor had signed off and Manny had actually sparred and looked good. It wasn't until the fourth round of the fight that Pacquiao reinjured the shoulder.  Arum also disclosed the injury was mentioned to USADA (United States Anti-Doping Agency) but the info was not relayed to the Nevada State Athletic Commission.
As far as the rematch is concerned, Arum again says that as of right now there are no talks of another go around between Mayweather and Pacquiao.
It is no secret that the Filipino super star has financial problems, from tax evasion in his native Philippines to these pesky lawsuits.  Even if they don't go to fruition, there must be some legal fees he must pay to get from under them.  One name that has been mentioned for Pacquiao is "The Machine" Lucas Matthysse of Argentina.  Arum quickly refused to even consider that fight.
So where does that leave Pacquiao?
Hopefully not in the poor house.
---