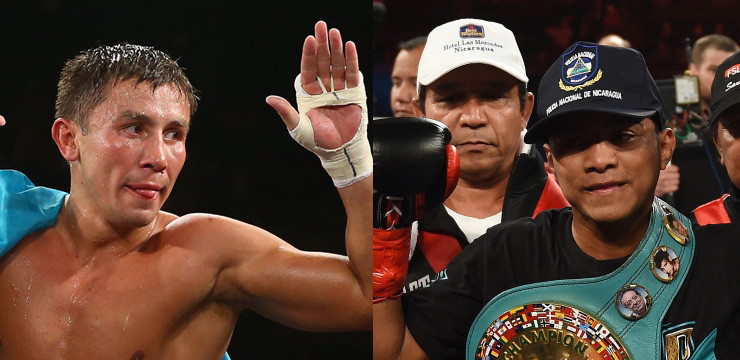 Our debate topic last week was who would win between undefeated unified light heavyweight world champion Sergei Kovalev and Unbeaten Super Middleweight world champion Andre Ward. Both guys are at the top of their perspective divisions in the eyes of many. We assumed that the bout would take place at 175 since Kovalev has been very adamant that he would not fight Ward below the 175 light heavyweight limit. It is a very intriguing matchup as Kovalev showed in his victory over Bernard Hopkins that he is more than just a puncher. He showed that he is a complete boxer. This would be needed to beat someone of Ward's high level skillset. Both fighters had their share of supporters but it was Ward's overall support in volume that gave him the edge over Kovalev.
This past weekend we saw two of boxing's top fighters in the world fight back to back. Both fighters entered undefeated world champions and both ended the night that way with impressive knockout victories. The recent retirement of pound for pound unbeaten king Floyd Mayweather Jr. has left the number one spot vacant. The names of Gennady "GGG" Golovkin (34-0 , 31 KOs) and Roman "Chocolatito" Gonzalez (44-0 , 38 KOs) both are names being considered after their recent wins.
Golovkin has had some very dominating performances the last few years. Fortunately for him and the fans most have been aired live on HBO. Gonzalez has had his last two fights aired live on the network and many fans have finally gotten the chance to see what he has been doing for many years now. The good news is that it was announced recently that K1 Promotions who promotes Golovkin will be the American based promoter for Gonzalez as well.  This should hopefully lead to at least 3 Gonzalez HBO televised fights appearances per year.
Our debate is who do you think rates the pound for pound top fighter between the two. Golovkin has been in the spotlight longer. Gonzalez has been at the top much longer. Golovkin will have the edge in the overall general public perception as the smaller weights tend to get overlooked. Gonzalez is actually paving the way for fans to get to see the little guys. It should be noted as well that Gonzalez has won world titles in three different weight classes and is only 28 years old. Please let us know who your number one is between the two
---