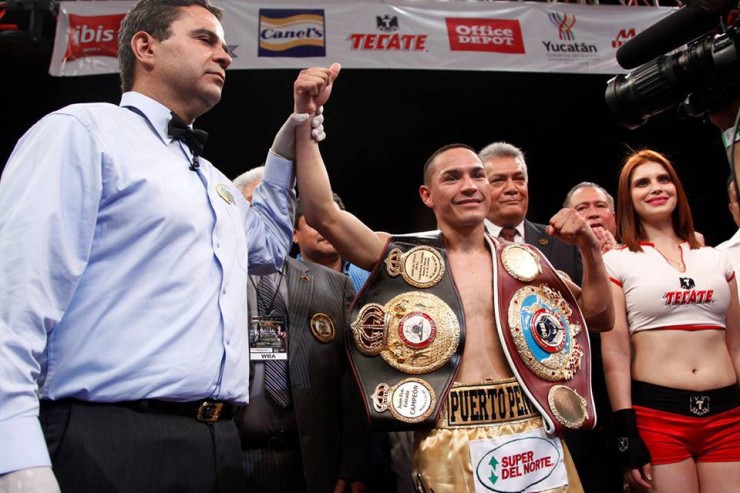 Unified world flyweight champion Juan Francisco Estrada (33-2, 24 KOs) defended his titles successfully versus former world champion Hernan Marquez (39-6-1, 28 KOs) this past Saturday night. This was a fight that had been talked about locally for quite some time.  Both fighters are from the state of Sonora in Mexico making the matchup extra special. The fight started off closely contested the first few rounds before Estrada broke through in a big way. He would go on to drop Marquez 7 times in route to a 10th round technical knockout victory. It was an electric performance put on by Estrada and his future is extremely bright at just 25 years of age.
It's been nearly three years since Estrada dropped a very competitive decision loss to unbeaten world champion Roman Gonzalez. No one since or before has given Gonzalez the fight that Estrada gave him. Estrada gained so much experience from that fight as he would go on to become the  unified world champion he is today. He has reeled off 7 wins in a row since the Gonzalez defeat. He has beaten some of the biggest names during the streak that include former world champions Giovanni Segura and Brian Viloria.
Ironically Viloria will face Gonzalez in about a month's time. An Estrada rematch with the winner would be quite a showdown. It would be a much bigger rematch if it were with Gonzalez. The reason being is that Gonzalez is making big waves and now fighting in his second consecutive fight on HBO. This is a major breakthrough for flyweights like Estrada. One other thing that stood out this past weekend was the fan support for Estrada. It was quite impressive with his fans drowning out the supporters for Marquez quite easily. Estrada is on quite a run at the moment. Should he continue pound for pound consideration or entry on to the list could be in his near future.
---