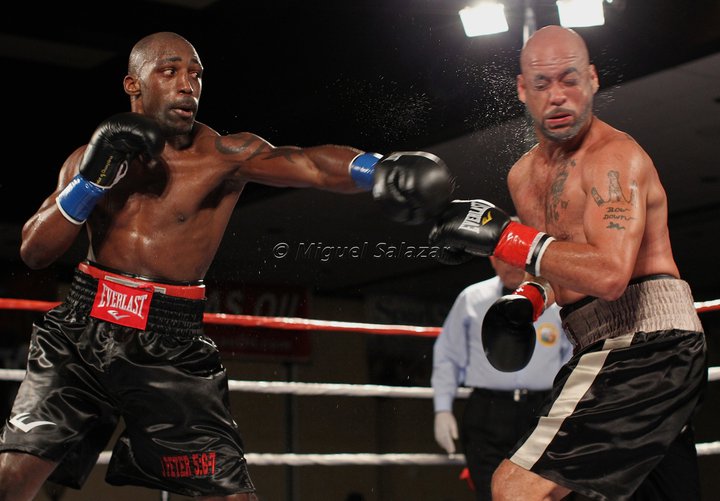 The Mayweather-Guerrero undercard is continuing to take shape with the un-televised portion of the card getting a boost in the form of Californian based middleweight DonYil Livingston (8-2-1, 4KOs) squaring off against highly touted Mayweather promoted prospect Luis Arias (4-0, 3KOs). The 8 round contest will be fought at a catch weight of 165 lbs and both fighters will be looking to put on a show in front of a rambunctious crowd at the MGM Grand in Las Vegas, Nevada.
Livingston will be looking to get back into the win column, although he will have a substantial advantage over Arias in the experience department. While Arias has competed on 3 different occasions this year, Livingston will be making his first appearance of 2013. However, Livingston is clearly the most significantly skilled opponent in Arias' career and the step up will determine just how ready the 22 year old prospect really is at this point. Livingston will look to take advantage of that inexperience.
"The kid is on fire right now, but he's never seen anyone like me and it's going to be too much too soon. I give him credit for stepping up like this because most fighters try to pad their record at such an early stage. I'll get the win and he'll get the learning experience, I think that's a fair trade," Livingston said.
Livingston is competing against a Mayweather Promotions' fighter on a card headlined by Floyd Mayweather Jr., but Mario Yagobi of Boxing 360, Livingston's promoter, is ecstatic with the opportunity that is being presented to his fighter.
"DonYil gets the chance to perform on the undercard of the biggest event of the year and he has to take full advantage. With the expected atmosphere that night it is important to make the best effort at turning some heads, DonYil is capable of doing just that. He isn't the kind of fighter who underestimates opponents, regardless of experience. He knows how good his opponent is and how important this fight is for turning his future aspirations into reality, he will use his ring experience to get the win and build some momentum," Yagobi said.
DonYil Livingstion is promoted by Boxing 360.  For more information on Livingston please visit www.boxing360.com.
---