Boxing History: February 18, 1936 Freddie Miller W 12 Johnny Pena, Seattle. Retains World Featherweight Title.
Titles: World featherweight champion 1933-1936
Record: won 204 (KO 45) + lost 31 (KO 2) + drawn 8 = 246
Born: April 3 1911, in Cincinati, Ohio (USA)
Miller was the prototypical depression era fighter who fought 19 times a year on the average, for tiny purses against tough opposition. Still the 5 foot 5 inch Miller stood out even among his peers of the time as the most active champion of his day. Boxing would take Freddie from fighting exclusively in front of his hometown fans of Cincinnati early in his career to world title bouts around the world in his heyday. His remarkable boxing abilities were made even more imposing coming from his southpaw style that only added to the frustration of his many opponents.
To show how hard of a worker Miller was he took 24 fights the year after he won the title and 35 more the following year. In all Miller would fight 90 times during his 4 year reign as featherweight champion. In those 90 fights he put his title on the line 11 times including overseas trips to England, Spain, Cuba, France and Belgium.
Miller died in his hometown of Cincinnati in 1962.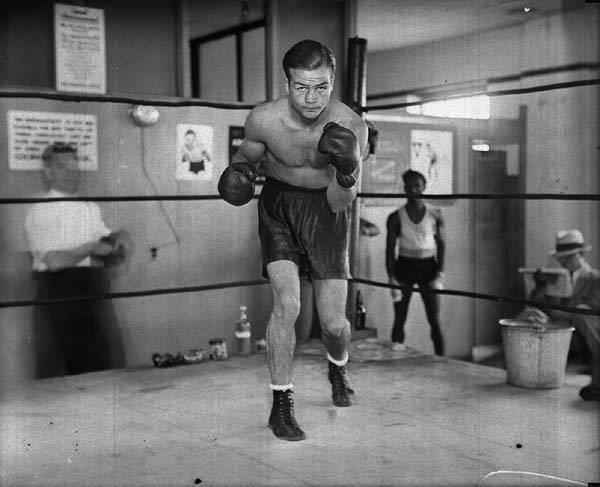 Freddie Miller's record: 204 (KO 45) + lost 31 (KO 2) + drawn 8 = 246.
This featherweight champ had two of his most famous fights with Abie Israel.
---