Boxing History: Davey Moore KO 11 Hogan (Kid) Bassey, Los Angeles. Retains World Featherweight Title.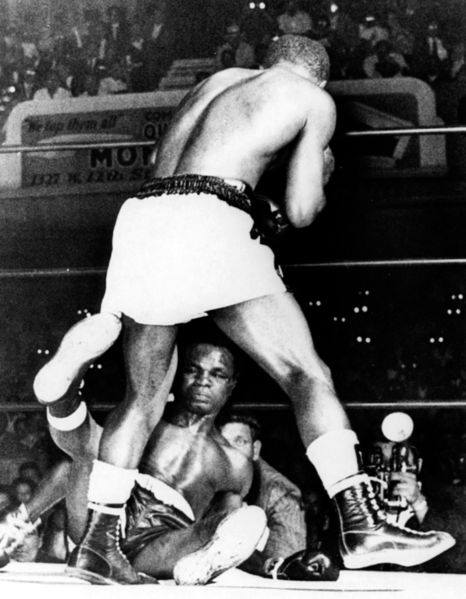 Last fight and death – Davey Moore
Moore died March 25, 1963, as a result of injuries sustained in a match against Sugar Ramos.
Moore was scheduled to face Cuban-Mexican Sugar Ramos in July, 1962 at Dodger Stadium but a torrential typhoon-like rainstorm hit Los Angeles on the night of the fight and the fight was postponed until March 21, 1963. It was shown on national television.
The atmosphere in the stadium was electric with anticipation. The sound of conga drums filled the air as it was a pro Ramos crowd filled with many Mexicans who had come to root for their fighter. Both fighters were devastating punchers and rocked each other frequently. In the tenth round Ramos staggered Moore with a left and then continued to pummel him with blows until he fell, striking the base of his neck on the bottom rope and injuring his brain stem. Moore got to his feet for the eight-count and, despite Ramos' continuing attack, somehow managed to finish the round on his feet, but the referee stopped the fight before the eleventh, and Ramos was declared the new WBC/WBA World Featherweight Champion.
Moore was able to give a clear-headed interview before he left the ring, but in the dressing room fell into a coma from which he never emerged, dying 75 hours later. There was existing public controversy due to the death of Benny "Kid" Paret one year before, and Moore's death prompted debate about the dangers of #boxing and the possibility of the sport being banned in the United States.
---