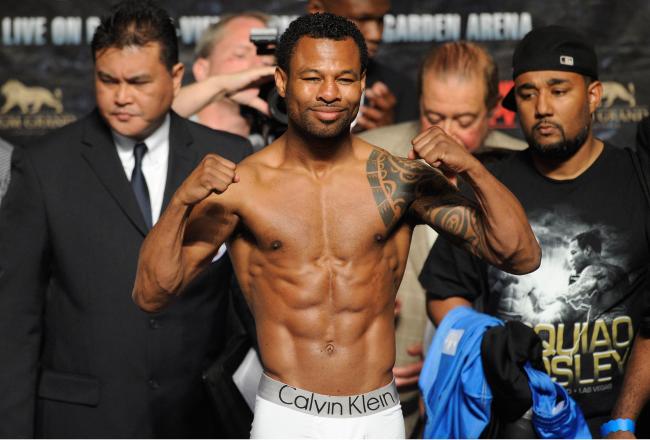 Fighting since an early age and cutting his teeth in the competitive Los Angeles area, "Sugar" Shane Mosley (47-9-1, 39KOs) is a fighter through and through.  An amateur standout with an impressive record of 230-12 including a number of national and international titles, "Sugar" went pro in twenty years ago with a knock out win over Greg Puente.  In the next two decades, Mosley became one of the most popular and respected prizefighters on the planet, capturing multiple titles in four weight classes and slaying some of the biggest names in the sport including Oscar De La Hoya twice, Fernando Vargas twice, Ricardo Mayorga and Antonio Margarito.  Mosley has also faced but come off short against the likes of Miguel Cotto, Floyd Mayweather Jr, Manny Pacquiao and Saul "Canelo" Alvarez.
Since defeating Margarito via ninth round TKO in early '09, Mosley has not had much luck, dropping a decision to Mayweather Jr, a draw with Sergio Mora, two consecutive losses to Pacquiao and Alvarez, an impressive win over the tough Pablo Cesar Cano and earlier this week, an upset loss to Australian Anthony Mundine.
The surprising detail of the Mundine loss is that despite facing some of the toughest names out there, Mosley had never been stopped until Mundine did it.  Mosley failed to answer the bell for the seventh round complaining of severe back spasms.
Have we seen the end of Shane Mosley?
Mosley announced his first retirement back in 2012 when he was soundly defeated by twenty-one year old Saul "Canelo" Alvarez.  That exodus lasted about twelve months.  Mosley came back in Mexico versus Cano and promptly took the young man to school.
Six months later Mosley finds himself on the other side of the globe sitting in a hotel room wondering if he was going to get paid after rumors that Mundine's backers were simply not there.  After a long plane ride back to the U.S., quite a bit of haggling, a cashed $300,000 check by Mosley and a one million dollar deposit, Mosley found himself back in Australia and in a ring facing Mundine in the super welterweight limit.
In typical Mosley fashion, he will not clearly state if this is the end.  In remarks to the media, Mosley has stated that once he returns home, he will, "check out the tape, and take a look at what's going on."
Many in the boxing world are calling for Mosley to end his career.  The proud fighter has stated more than once that boxing is all he knows.  Failed attempts at promoting are not enough to quench his thirst for the fight game.  Mosley has also doubled at training, mostly his own son, an amateur making a name for himself.
Whatever decision Mosley makes, I hope it is with his health in mind.  Always in shape and known for clean living, perhaps father time more than anything else has finally caught up with "Sugar".
We just will have to wait and see…
---