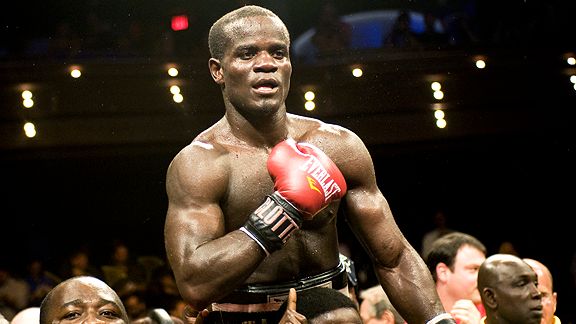 During a day long visit earlier this week in the New York offices of HBO, Golden Boy Promotions CEO Oscar De La Hoya as well as the golden goose himself, Saul "Canelo" Alvarez, announced what everybody in the boxing world already knew, who his next opponent is.  Despite names like James "Mandingo Warrior" and Demetrius "Boo Boo" Andrade were bandied around, thirty-seven year old former IBF welterweight Joshua "Grand Master" Clottey was tapped to face Alvarez, 24, on December 6th in Houston, Texas, in his comeback to HBO fight.
Born in Ghana and fighting out of the Bronx, New York, Clottey is a nearly twenty year veteran with forty-three fights under his belt. Surprisingly three less than Alvarez who began his pro career at the tender age of fifteen and has been kept busy by every promoter whose had the pleasure of handling his career.
Clottey began his career in his native Ghana but quickly found his way to the United Kingdom.  After twenty straight wins, fifteen inside the distance, Clottey suffered his first loss under controversial conditions.  He was disqualified in the eleventh round against Carlos Baldomir after repeated warnings of using his head.  The WBC International welterweight title was on the line.
After the loss Clottey returned to Ghana and then found himself in the United States, racking up wins against no-hopers as he built up his record.  Clottey jumped into the boxing consciousness in 2006 when he gave the then WBO welterweight champion Antonio Margarito all he could handle in Atlantic City.  Clottey proved to be a tough warrior as he went after Margarito for the complete twelve rounds.  Despite losing a unanimous decision, many believed that Clottey had done enough to not only win but walk away with the title.  After Clottey won four in a row including a unanimous decision over former champ Diego "Chico" Corrales, Clottey got another shot at a title, this time the IBF version, against Zab Judah, winning a technical decision in nine.
Clottey's fortune took a wrong turn in his next two fights.  First he dropped a split decision to Puerto Rican Miguel Cotto for the WBO title.  In his next fight in March of 2010, Clottey put in an awful performance against Manny Pacquiao on the biggest stage of his career and one of the biggest in boxing, Dallas' Cowboys Stadium.  As Pacquiao darted in and out and scored nearly at will, Clottey just stood there with a high guard resembling a defensive turtle standing up straight.
Since then, Clottey has only fought three times, once each year in 2011, 2013 and 2014.  What won the opportunity for Clottey against Alvarez is his last win last April when he traveled to Australia and defeated local star Anthony Mundine with a wide unanimous decision.  With the win, Clottey captured the WBA International light middleweight title.
Can Clottey upset the apple cart emblazoned with Cotto-Alvarez in May 2015 on the side? We are only a couple of months away to finding out.
---