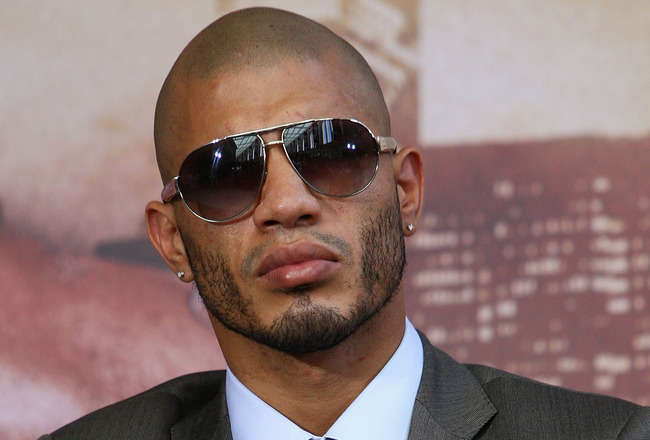 The boxing universe is up in arms from the hoopla caused by the Floyd Mayweather Jr and Manny Pacquiao meet and greet earlier this week in Miami.  Both at the American Airlines Arena for the professional boxing game between the Miami Heat against the Milwaukee Bucks, they had a quick summit during halftime where they exchanged numbers and set up a sit down for later the same night.  Now Rick Reeno and Steve Kim posted on their website that Mayweather Jr and Pacquiao met for a couple of hours after the game with only Pacquiao advisor Michael Koncz, Pacquiao's wife Jinkee and her sister present.  The post mentioned that some of the issues discussed was some of the broadcasting issues that have come up between HBO, who holds a contract with Pacquiao, and Showtime, who holds one with Mayweather Jr.
The question on the table is the fight can still happen on the much coveted date of May 2nd?  I say no because we are forgetting about the Cotto equation.
Only a couple of months ago it looked like Miguel Cotto was all set to face Saul "Canelo" Alvarez but as 2014 ended and even after Alvarez conceded to almost everything that Cotto wanted, it looked like the current WBC middleweight champion was perhaps waiting for a bigger payday in a rematch against the pound for pound #1 PPV fighter Floyd Mayweather Jr.  Deadlines set up by Golden Boy Promotions for Cotto to make a decision came and went but Cotto decided not to sign the contract.  Golden Boy Promotions and Alvarez moved on and now will face James Kirkland on May 2nd in San Antonio, TX, or Las Vegas, NV.
It is no secret that Mayweather Jr is the golden ticket in boxing. Whoever faces him will get the highest payday of his career.  Second to him is Manny Pacquiao and perhaps third is "Canelo" Alvarez.  With no interest for a Pacquiao vs Cotto rematch, it would be safe to presume that the second biggest opportunity for Cotto to make a considerable purse would be against Alvarez.  With the fight pretty much signed, sealed and delivered against Alvarez, it would only make sense for Cotto to pass it up if he had a guarantee from Mayweather Jr that he is next in line for a rematch that nobody, press and fans alike, are asking for.
Do we really think that Cotto let go of a very lucrative payday against Alvarez on a "maybe" from Mayweather?
Even though everybody is clamoring for the Mayweather Jr vs Pacquiao fight to finally happen, let's not forget that Pacquiao did put a deadline of the end of the month for this fight to happen which is right around the corner.  Although the talks mentioned in a hotel room in Miami seem promising, it just that, "talk". Everything that Mayweather Jr and Pacquiao talked about is good and dandy but you still have to put it in front a group of lawyers which might make it all that much difficult to put together.
---