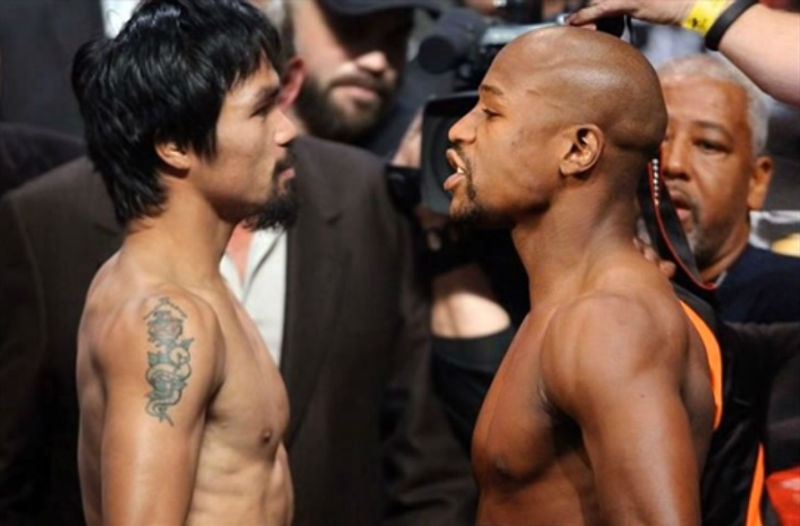 Like many in the boxing media, Boxing360 has tried to keep an arm's length in any talks for a possible fight between the pound for pound king Floyd Mayweather Jr and the fighter of the last decade Manny Pacquiao.  This tussle has been talked about since 2007 and seven years later I don't think these two men have even been in the same room as each other.  There isn't really much to be said or written that already hasn't since 2007 but recently there have been some interesting updates to the possible match up that can't be overlooked.
Despite Mayweather Jr claiming that he is the captain of his own vessel and he controls every aspect of his career it would be hard to believe that he has not felt some type of pressure from Showtime for the recent performances of his PPV buys in his last couple of fights.  It is rumored that Mayweather Jr must sell pretty healthy over one million PPV buys for his mega events twice a year to turn a profit.  With his record breaking purses plus the cost of his opponent, the rest of the card and promotion, the whole endeavor can cost a pretty penny.  In his last two fights, both against tough but mostly unknown Argentinean Marcos Maidana, it is said that Mayweather Jr sold just shy of one million.  That can't bode well with Showtime who for all intent and purposes must foot the bill for the difference.
After his first fight under his $200 million deal with the cable network against Robert Guerrero did not sell what was expected Mayweather Jr quickly righted the ship with the most lucrative PPV fight of all time against Saul "Canelo" Alvarez.  Now after two failed attempts and when I say failed I mean in his terms because anything over 350,000 buys is considered a success for anybody not named Mayweather Jr or Pacquiao, it can only be expected that Mayweather Jr must deliver once again an event of out of his world proportions.
Currently in the Mayweather Jr universe there really isn't anybody that can bring any numbers above what Maidana produced.  Amir Khan, Danny Garcia and Keith Thurman have been mentioned as future opponents but none of them transcend the sport or have a large contingent of fans like Saul "Canelo" Alvarez does.
Enter stag e left Many Pacquiao.
Pacquiao has all the elements that Alvarez does and then some.  Beloved by his Filipino people and respected by the Mexican fight fans, Pacquiao brings a huge number of fans that will pay top dollar to see him face Mayweather Jr.  Pacquiao also poses a threat inside the ring to Mayweather Jr and that also makes it an attractive buy.
Floyd's father, Mayweather Sr, recently went on the record that the fight will definitely happen in 2015.  His son quickly went on the internet and rebuked that statement and even threatened to fire his father as his trainer.  Despite all the denial, Mayweather Jr recently has poked the bear posting questionable images on his social media accounts belittling Pacquiao's sales but nonetheless keeping both their names in the media.
Pacquiao has a tough test on November 22nd in Macau, China, against Chris Algieri.  Mayweather Jr has stated that he would like to see the outcome of that fight before he considers a Pacquiao fight.
We do too.
---