Boxing History: June 26, 1959 Ingemar Johannson KO 3 Floyd Patterson, NYC.
Wins World Heavyweight Title.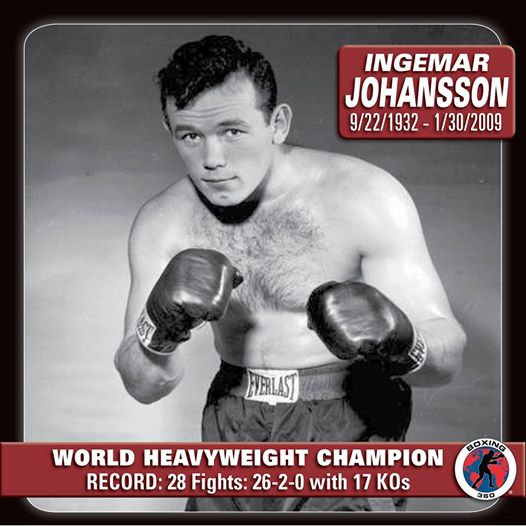 Ingemar floors Floyd 7-times in the fateful third.
Jens Ingemar Johansson (September 22, 1932 – January 30, 2009) was a Swedish boxer and former heavyweight champion of the world. Johansson was the fifth heavyweight champion born outside the United States. In 1959 he defeated Floyd Patterson by TKO in the third round, after flooring Patterson seven times in that round, to win the World Heavyweight Championship. As a result, Johansson was awarded the Hickok Belt as top professional athlete of the year – the only non-American to do so in the Belt's entire 27-year existence – and was named the Associated Press Male Athlete of the Year and Sports Illustrated magazine's "Sportsman of the Year". He holds notable victories over Floyd Patterson, Eddie Machen, Joe Bygraves (two times), Henry Cooper, Brian London, Dick Richardson, Joe Erskine among others.
Johansson enjoyed a successful career as a heavyweight. When he retired in 1963 he had a record of 26 wins, 17 by KO, and only 2 losses. He called his right fist "toonder and lightning" for its concussive power (it was also called "Ingo's Bingo" and the "Hammer of Thor"), and in 2003 he was ranked at #99 on The Ring's list of 100 greatest punchers of all time. He reputedly had bone trouble in his right hand on and off throughout his career as a result.
55 years ago today: June 26, 1959 EXCELLENT NEWSREEL FOOTAGE!
Ingemar Johannson vs. Floyd Patterson, NYC. Johannson wins World Heavyweight Title.
---