Boxing History: July 30, 1884 Jack Dempsey (The Nonpareil) KO 22 George Fulljames.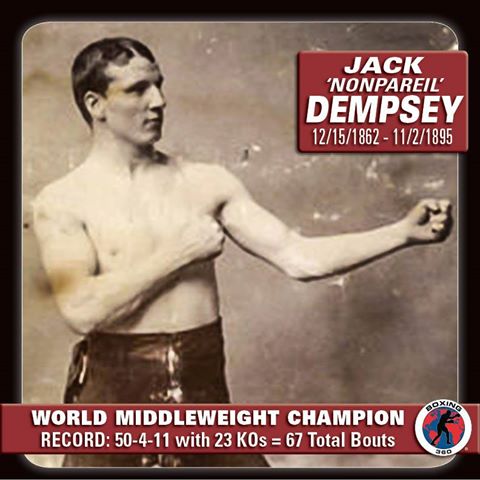 Becomes the first recognized world middleweight champion. The first bout under the Marquis of Queensberry rules.
The fight took place on July 30th 1884 in Great Kills, Staten Island, New York, and was fought under London prize ring rules with gloves for a purse of $2,000 (about $50,000 in today's currency).
The fight began with both men being cautious, there was a slight exchange were Dempsey landed a right on Fulljames forehead and the latter returning with a left to Dempsey's face. They closed and Dempsey using some of his collar and elbow wrestling tricks. In the third, Dempsey landed a big right/left combination on the face but Fulljames returned with some terrific punches of his own, then Dempsey landed a huge left hander which sent his opponent down for the first knockdown of the fight.
The next eleven rounds were all in Dempsey's favor, he battered his opponent all over the ring from but Fulljames was game and fought bravely even if he was out matched. The bout continued like this for another six rounds until at the beginning of the 21st Fulljames's corner men threw in the towel to save him from any more unnecessary punishment. Fulljames protested claiming he could fight another hour if need be but his backers wouldn't have any of it, after the fight Dempsey gave Fulljames $50 for his game effort and declared himself the undisputed middleweight champion of the world.
Jack 'Nonpareil' Dempsey was a former Middleweight champion of the world during the 1880's, he is regarded as the first gloved Middleweight champion and was also considered the best pound for pound fighter in history up until that point hence the nickname 'Nonpareil' literally meaning, without equal or unrivaled.
Born John Edward Kelly, in Clane, county Kildare, on December 15th 1862, to parents John Kelly and Alicia Lennon. Tragedy struck the family when young John was just four years old as his father passed away, his mother remarried soon after to a man by the name of Patrick Dempsey from the town of Newbridge. Like most Irish families of the time the Dempsey's struggled under the weight of oppressive British rule and decided to relocate to the United States in search of a better life, they settled in Williamsburg, a suburb of Brooklyn, New York, this is where young Dempsey would spend his childhood and learn how to fight.
Dempsey decided to retire for good January 18th 1895, and should have enjoyed a long and happy life but sadly his old foe tuberculosis struck again, this time fatally and Jack Dempsey died in his wife's parents house on November 1st 1885, at the age 32. He was buried in a paupers grave in Mount Calvary cemetery, Portland, Oregon. His father in law James Brady refused to allow Dempsey's old pals Jack Skelly, Jack McAuliffe and John L. Sullivan to raise funds and erect a monument over his grave believing that the four foot marble headstone was a sufficient enough memorial.
Dempsey was inducted into the Ring Boxing Hall of Fame in 1954, and into the International Boxing Hall of Fame in 1992.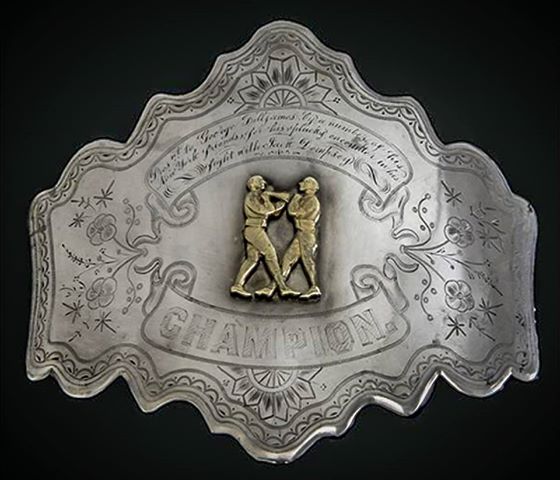 Elegant pewter belt buckle was hand made following the bout between Jack 'Nonpareil' Dempsey vs. George Fulljames on July 30, 1884. Dempsey defeated Fulljames cin 22 rounds, thereby claiming the title as middleweight champion. Intricately adorned with regal borders and flowered designs, the piece is highlighted by a golden sculpture at center of two bare-knuckled pugilists. Below is engraved the word, "Champion" in large block letters. Above is engraved the wonderful and personal inscription, "Presented to George Fulljames by a number of his New York friends for his plucky encounter in his fight with Jack ?#?Dempsey?." An incredible piece of artistry and ?#?boxing? history.
---