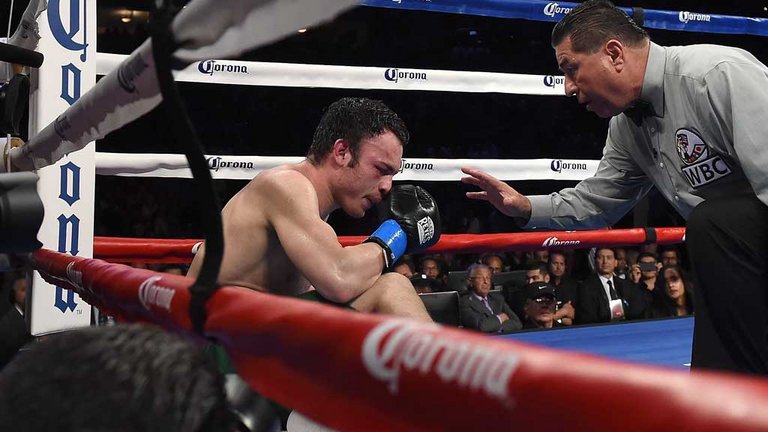 Saturday night at the StubHub Center in Carson, CA, and live on Showtime a huge derailment in the plans of not only Julio Cesar Chavez Jr happened but also on his advisor and head of the Premier Boxing Champions, Al Haymon.  After a thirteen month exodus from the ring, Chavez Jr came back against light heavyweight Adrzej Fonfara at a catch weight of 172 pounds and was systematically bludgeoned in nine brutal rounds.  He was sent down to the canvas for the first time in his career and stopped minutes later when he asked new trainer Joe Goosen to stop the fight because of an alleged leg injury.  The night also marked the debut of Junior as promoter with his Chavez Jr Promotions predominately announced throughout the night.
It has been somewhat of a tough road back for the son of Julio Cesar Chavez Sr, considered by many the best Mexican fighter who has ever lived.  After defeating Brian Vera for a second time back in March of 2014, Chavez Jr decided that he did not want to continue with his then promoter Top Rank.  As one of the most popular Mexican fighters in the market, second only to Saul "Canelo" Alvarez, he was courted by none other than Al Haymon.  Litigation followed his desire to rid himself of Bob Arum and Top Rank.  In the meantime Chavez Jr did what he does best, get fat.
Talks for facing the UK's Carl Froch began and then quickly evaporated while his suit with Top Rank moved on.  Finally that was resolved and a fight with Fonfara materialized a little above than the weight class, super middleweight, which Junior was planning at campaigning at.  Chavez Jr, along with new trainer Joe Goosen, quickly found themselves in Lake Tahoe, Nevada, getting ready for a tough fighter that many in his camp didn't want to face in his first fight back.
Fonfara dominated the exchanges from the opening bell as he was able to keep Chavez Jr at bay with a solid jab followed by a right hand.  Despite his father instructing his son's corner of how he needed to get on the inside, Chavez Jr never did bob and weave but instead came in head first only to be tagged repeatedly by Fonfara.  The quick end came in the ninth when Chavez Jr was tagged with a hard left hook to the temple.  He took a step back and then fell on his backside. He beat the count and despite Fonfara going for the finish, was able to survive the round.    Seconds later the fight was stopped.
Now Chavez Jr must regroup.  Will this finally be the lesson he needed to learn that going up in weight was finally going to catch up with him?  For the first time in his career, Chavez Jr did not enjoy the weight advantage so when he forced the fight on the inside in the middle rounds, Fonfara was right there in front of him taking every punch dished by the Mexican superstar.
This loss not only ruined his plans but the aforementioned Froch's who was all set to face Chavez Jr later this year.  The fight might still happen but it might not have the luster it did just a couple of months ago.  Also, Haymon can't be all that happy since out of the more than three hundred fighters he has under contract, none is bigger to the Mexican fans, a huge driving force in the sport, than the son of the legend.
Chavez Jr might have lost the fight, but he went laughing all the way to the bank, and hospital where he was taken after for observation, with reported winnings of merely five million dollars split between his promotional fee and purse.
So who really was the loser?
---