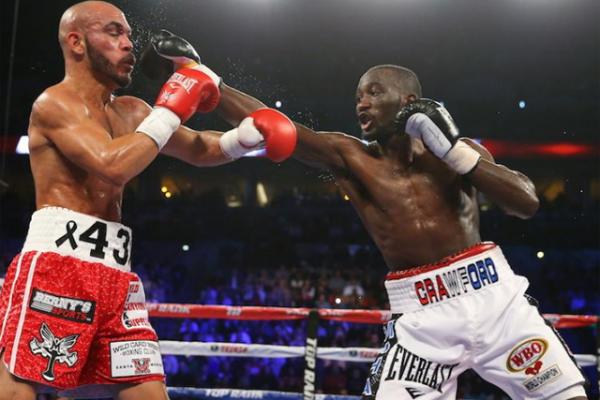 CRAWFORD WINS HIS TICKET TO LIGHT WELTERWEIGHT
There can't be a more stacked division in current boxing than the light welterweight division.  Small enough to have quick hands but big enough to end fights in spectacular knock outs, it might be the most exciting weight class in the sport.  Champions like Danny Garcia, Jessie Vargas and Lamont Peterson along with current starts Lucas Matthysse, Adrien Broner and Ruslan Provodnikov might just have to welcome a couple of more players into the game.
Manny Pacquiao and Terence Crawford.
A couple of weeks ago Pacquiao made mince meat of Chris Algieri, the WBO light welterweight champion, sending him six times to the canvas over twelve rounds in Macau, China, on HBO PPV.  That fight was waged at a catch weight of 144-pounds for Pacquiao's welterweight title.  Freddie Roach, Pacquiao's long-time trainer, has said time and time again in during this fight camp that he is urging Pacquiao to drop back down to the light welterweight limit.  Roach feels that there Pacquiao can get back to the exciting knockout puncher he once was before he began campaigning at welterweight. It would be safe to say that the only reason Pacquiao would stay around the 147-pound category is if the mega-fight against Floyd Mayweather Jr finally gets made.
This past weekend, Omaha, Nebraska's Terence Crawford did a complete undressing of tough Mexican fighter Ray Beltran to defend his WBO 135-pound title live on HBO.  From the second round on when Crawford switched to southpaw he easily controlled the distance and thus the action with quick hands, reach and his boxing intelligence.  It wasn't that Beltran was never in the fight, it was that Crawford was just that good to nullify Beltran's attack, no matter what the Mexican did.  Beltran could have beaten any other lightweight on Saturday night, just not Terence Crawford.  Crawford announced before and after the fight that his second lightweight title defense was his last fight in the division and that he was moving up to junior welterweight.
The big prey game in the division is none other than undefeated Danny Garcia of Philadelphia, PA.  Garcia is the current WBC and WBA super champion and quite arguably has the best resume in the weight class.  Garcia has beaten veterans in Erik Morales and Nate Campbell, former champs in Kendall Holt and Zab Judah and his contemporaries in Lucas Matthysse, Amir Khan and Ashley Teophane.
At this point it would be a stretch to believe that Crawford will get a shot at Garcia.  Despite the fact that the cold war between Golden Boy and Top Rank is slowly thawing, Garcia is still advised by Al Haymon and there is no way a fight will be made between them unless ordered by a sanctioning body which doesn't seem likely.  Garcia has said that he is ready to go up to welterweight and quite possibly get in line for a Mayweather fight but he just might stay at 140 lbs. to face the other big fish in boxing, Manny Pacquiao.
2015 can't get here soon enough.
---