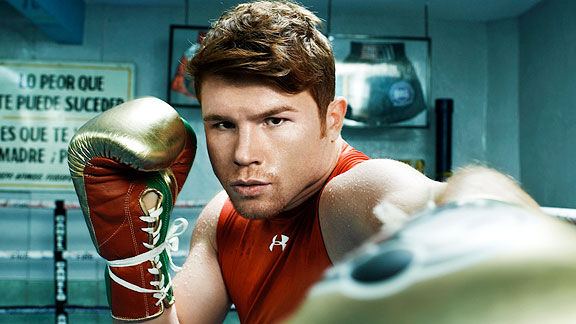 There is a tug of war going on right now on Mexican network television. As it has been explained here before, Mexico is a major TV country and there is no bigger network than Televisa. The media company, which also owns magazines and radio stations, is known to make pop stars of untalented singers, soap opera vixens and even presidents of the country if they really set their heart on it. They might even be able to make a certain boxer bigger than he might deserve to be.
The other network, Azteca, is not nearly as big nor powerful. One Azteca did do was put their stamp on Saturday night boxing after Televisa had left it by he wayside years ago. That move made Televisa play catch up but now their Saturday night broadcast is neck to neck with Azteca's every Saturday night. Zanfer Promotions, who are tied to Top Rank, are the only providers of boxing content for Azteca while Televisa until recently spread the wealth around a number of national and international promoters. As of late it looks line only Promociones Del Pueblo will have the dates and any of those who want to associate themselves with them.
The war now has centered on one Saul "Canelo" Alvarez. Ever since signing to his first promoter, Alvarez has nearly been a staple on Televisa. His fights are broadcast on the network while his personal life is discussed during morning time shows and in magazines in hopes to of making him one of the biggest stars in the country but it looks like things are about to change.
Late last week Zanfer Promotions put out a press release stating that the company, the Azteca network, Golden Boy Promotions and Alvarez had come to an agreement to broadcast his 3 next fights on the Azteca channel. On face value it didn't seem all that of a shocker since it's no secret that Golden Boy is working closely with Top Rank now and that company is associated with Zanfer who owns all he dates on Azteca. The strange part was why did Zanfer release the statement?
The boxing world didn't have enough time to speculate on it since Golden Boy about an hour later put out their own statement stating that Alvarez in truth had not come to terms with Televisa yet but that talks were ongoing. That only Golden Boy and Alvarez had the right to announce that type of deal and no outside promoters.
So what was Zanfer's move? Could it have been that both networks were interested and they wanted to throw Televisa off the trial?  Maybe the affluent Televisa was ready to make a considerable offer and Zanfer wanted them to think they were too late?
The fact that Alvarez is going to Azteca might be a past gone conclusion it's just a matter of when and who announces it.  Goes along with the defection of JC Chavez Jr, a staple of Azteca since his pro debut, now to Televisa since he is fighting under the Al Haymon banner.
---