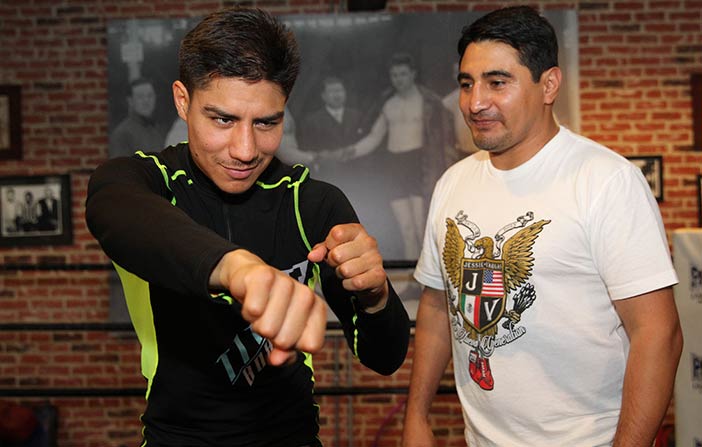 Big things are happening in the world of boxing, here is a quick run down:
1. Punches Thrown in Court – Today it was announced that Top Rank has filed an anti-monopoly suit against Al Haymon and others for 100 million dollars. This lawsuit goes along with the $300 million dollar one that Golden Boy Promotions filed back in May. Top Rank claims that the Premier Boxing Champions' policy to pay off different networks for air time is taking away the opportunity for Top Rank and others to compete. The PBC has gone on record to say that the suit has not merit. Let's see how this all turns out at the end.
2. Bradley vs. Mayweather – After his dominating win over former undefeated Jessie Vargas, there is talk of Timothy Bradley being the next opponent for Floyd Mayweather Jr. Two words: No way! Unless you didn't know, Bradley is promoted by Top Rank. The same Top Rank that just filed a lawsuit against Al Haymon, Mayweather Jr's agent. I don't think that either party will be willing or able to work together while the lawsuit is in play so boxing world, that fight is not happening.
3. De La Hoya Comes to His Senses – After weeks of will he or not, former multi-time world champion Oscar de La Hoya, 42, announced through a statement on his Facebook account that he will definitely not come back. He had toyed with the idea of facing Gennady Golovkin or Floyd Mayweather Jr in a rematch but the head of Golden Boy Promotions finally got his head right and decided to squash any possibility at coming back. At 42 years old, it would have to be now or never for De La Hoya so with him killing the idea, it's almost a given we will never see the "Golden Boy" in the ring again.
4. Cotto-Canelo Headed for Las Vegas – Although the fight has not been finalized, it looks like the next super fight on the horizon, WBC middleweight champion Miguel Cotto defending his title against former super welterweight champion Saul "Canelo" Alvarez will land in Las Vegas. New York and Texas were on the short list but now it looks like the Thomas and Mack Center in the city of sin is the front runner to host the mega fight. In true Cotto and "Canelo" fashion, both camps are negotiating between the 155 pound catch weight "Canelo" wants versus the 156 pound one Cotto wants. Again, this is for the middleweight, or 160 pound, WBC title.
5. "Terrible" Morales To Make Decision – Former four-divisional champion Erik "Terrible" Morales will decide if he will continue as a trainer, at least for Jessie Vargas, later this week. Vargas brought in the Tijuana warrior five weeks before his last fight against Timothy Bradley. Vargas lost a unanimous decision. Morales mentions there is some details that are stopping him from continuing with Vargas like the fact that Jessie decided to bring a member of Roy Jones Jr's team to wrap his hands while having Fernando Fernandez, the man that wrapped his hands during camp, and veteran Rafael Garcia in his corner the night of the fight. Turns out Vargas was comfortable with the hand wrap and according to Morales kept him from developing their strategy.
---