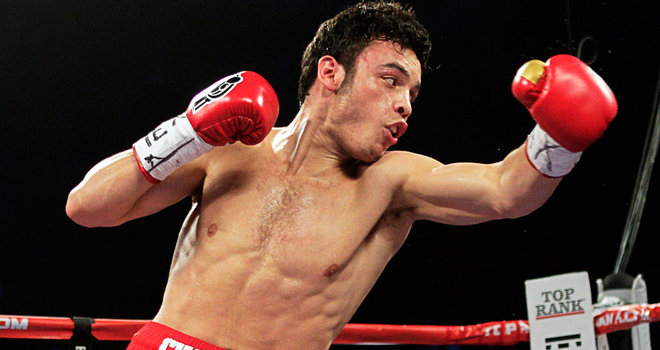 There might not be a bigger gamble in boxing than to be a Julio Cesar Chavez Jr fan.  The twenty-nine year old son of a legend jumps into the ring once again on Saturday, April 18th, after thirteen months without any action.  Chavez Jr will be facing light heavyweight title challenger Andrzej Fonfara at the StubHub Center outside of Los Angeles and live on Showtime.  The fight will be contested at a catch weight of 172 pounds.
Good ol' Chavez Jr.
Despite Chavez Jr pulling off the catch weight, that is the only thing that remains the same from one year ago. Gone is his promoter Top Rank, gone is his trainer and gone is his only manager.  Now Chavez Jr is under the banner of Al Haymon, not necessarily a promoter, but he sure acts like one.  Gone is Freddie Roach or his uncle in the corner and now Chavez Jr finds himself with the colorful Joe Goosen manning the ship.  Also his fight will be televised in Mexico Televisa.  The network is the rival of Azteca where his legendary fighter works as a color commentator on their Saturday night broadcasts.
Let's admit it, Chavez Jr is not the epitome of consistency.  He has his highs, literally, and his lows inside and outside the ring.  Like always, he is professing this time it is different and that he is ready to showcase his newly learned skills.
For his sake, hope it is true.
It is no secret that during his litigation with Top Rank and his time outside the ring Chavez Jr lost favor with the fans. He is not the young wunderkind in the past that would gather the masses in Mexico and in the United States. Not as much as his father but pretty good.  In his last fight was the highest rated last year with nearly one and a half million viewers.  The fight was against Brian Vera in San Antonio, Texas.
Chavez Jr is not out of the woods yet as it seems as his issue with Top Rank, who claim that the Mexican owes them one more fight while he states that he is a free agent.  Top Rank at first claimed to seek to stop his next fight but it looks like they reconsidered and rather duke it out on court and ask for damages at the proper time.
This next fight is an important one for Chavez Jr. First he is trying to establish himself  on a new network, Showtime, and near a new division, the super middleweight title, although he has fought near there for quite some time now.
Fonfara is no walk in the park, tall and strong, he might have a tricky European style that Chavez Jr is not used to facing.  Fonfara has also proved to have an iron chin since he went twelve round with hard hitting WBC champ Adonis Stevenson.  On paper Chavez Jr should win this fight but it is not written in stone.  If he does, he might be a force to be reckoned with at 168 lbs, now whether he is still a force in the sport, that remains to be seen.
---