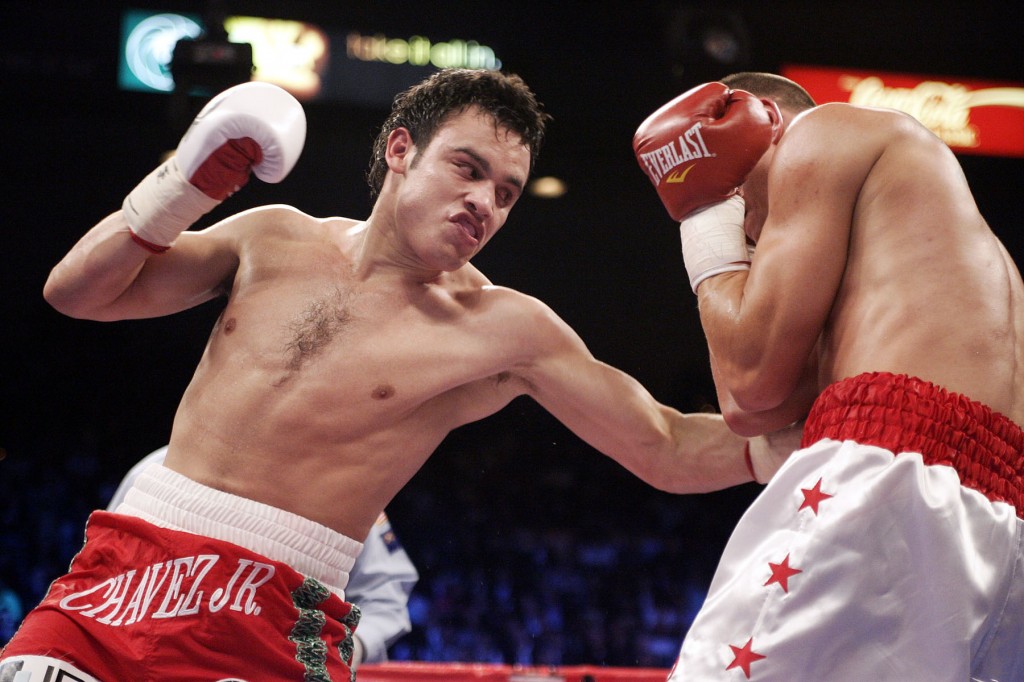 Not too long ago life for twenty-eight year old Julio Cesar Chavez Jr was pretty much peaches and cream.  Son of the most recognized Mexican boxer of our time, young, wealthy from an early age, rising top prospect with questionable skills and ethics and more importantly a contact with one of the most powerful promotional companies on the planet, Top Rank, are some of the luxuries, for lack of a better word, JC Jr enjoyed.  Now in early 2015, most of that has crumbled away.
Not many can put the blame on anybody else but on the shoulders of Chavez Jr himself.
His work ethic hasn't always been Spartan but in the last couple of years he really has lost in that department.  The epitome of that issue came to a head in the build up to his first fight against Brian Vera.  Chavez Jr, the first Mexican-born fighter to capture a major world title at middleweight, was scheduled to face Vera at 168-pounds in early September 2013.  A controversial cut suffered in early August postponed the fight until the end of September.  Controversial because nobody believed the injury was true even after Chavez Jr posting photos of the cut.  Many believed that Chavez Jr was having trouble making weight.  It got so absurd that the contracted weight wasn't announced until after Chavez Jr tipped the scales at 172-pounds.
A couple of suspensions due to diuretics and marijuana didn't help his cause with the boxing public and a conviction for driving under the influence didn't help either.
Considered one of the most popular fighters in the sport with his rematch against Vera in March of last year the highest rated boxing broadcast of last year, Chavez Jr has not fought since then.  The absence from the ring is mostly accredited to the ongoing legal issues he has with Top Rank.  Bob Arum, CEO and founder of the legendary company, says that Chavez Jr owes them one fight under his contract.  Chavez JR and now with new advisor Al Haymon says they don't.
Chavez Jr is scheduled to face Andrzej Fonfara on April 18th at a venue to be determined.
Recently Chavez Jr said publicly that although grateful for the time he spent with Top Rank, he doesn't feel they did things as they should have but did he trade one evil for another one?
It is no secret that Haymon is signing fighters as if they are going out of style. Many boxing insiders believe that the reclusive advisor is planning on making his own league.  Did Haymon pick up Chavez Jr because he wants to make him an even bigger star or as fodder for his younger more urban up and coming prospects. As stated before Chavez Jr is very popular but his numbers are dwindling and his latest shenanigans surely have not helped.
The beauty of the sport is that everything can be forgotten with one spectacular knockout.  Certainly Chavez Jr has the ability to do it.  The bad news would be if he is the one that is knocked out.
---