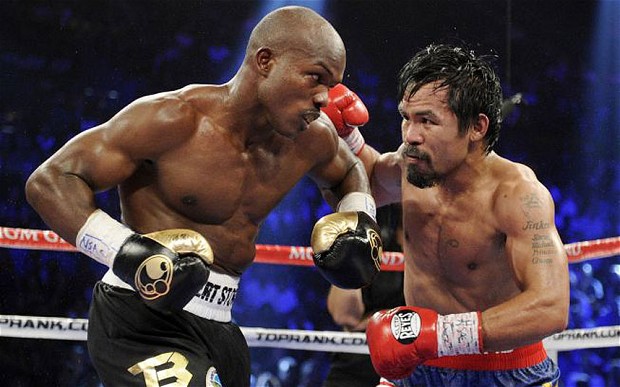 It seems all systems are a go for the return bout between WBO welterweight champion Timothy "Desert Storm" Bradley and Filipino congressman Manny "Pacman" Pacquiao on Saturday, April 12th, from the MGM Grand Arena in Las Vegas, Nevada.  Despite his next fight date scheduled almost as soon as Pacquiao walked out the ring in China after his twelve round drubbing of Brandon Rios last November, his opponent is still not officially announced even though Top Rank's Bob Arum has scheduled a press tour in the first week of February.  Arum has stated that although not actually signed or sealed, everything points that Bradley will be the man across the ring from the boxing star.
As everybody knows, it will not be the first time the two warriors face off against each other.  The first time, back in June of 2012, Bradley bum rushed his way to a split decision win where many if not everybody from fans to boxing media and casual spectators alike saw Pacquiao easily win the fight.  Despite of this, only true Manny Pacquiao fans complained of the "robbery" after a few days since the rest either went back to their everyday lives or if they were Juan Manuel Marquez fans, chalked it up to taste of his own medicine for the decisions, some say underserved, Pacquiao saw go his way against the Mexican future hall of famer.
It hasn't been an easy road for Bradley-Pacquiao II since their fates have gone in two completely different directions since that first fight nearly two summers ago.  After practically being black-listed for being on the receiving end of the controversial decision against the "Pacman", the thirty-year-old Bradley sat on the sidelines for nine months before facing the "Siberian Rocky" Ruslan Provodnikov in March of last year.  Bradley went against his style and the wishes of his trainer, Joel Diaz, and instead of out-boxing Provodnikov, he tried to out-slug him.  He went down in the final round in a fight of the year candidate and not only won the fight but also a number of new fans while defending the title he took from Pacquiao.
Manny's luck has not been as Bradley's since his loss against the undefeated champ.  Six months later Pacquiao found himself on the wrong end of a hard right hand from his arch nemesis Juan Manuel Marquez and out cold for several minutes in his very next fight.  After taking almost an entire year off, Pacquiao recently came back with a lopsided unanimous decision over the rugged Brandon Rios in China last November.
With Bradley's stock rising in the last twelve months, it was expected that he would want to receive a significant pay raise if he were to dance once again with the congressman.  It was reported that he was asking for at least eight million reasons to get back in the ring.  After it seemed that he might have out-priced himself from the second PPV of his career it was mentioned earlier this week that although not signed and sealed everything pointed toward Bradley and not Ruslan Provodnikov as the next Pacquiao opponent.
Looks like we won't know for sure until February 4th in Los Angeles when they have the kick off press conference.
---