Manny Pacquiao tagging Tim Bradley (Photo: AP/Chris Carlson)
Saturday night was a rough one for boxing. The world saw one thing, two judges saw something else, and the world suddenly cared about boxing again. Sadly it was for all the wrong reasons.
The fight was competitive but not one where you wondered who won. Pacquiao took charge midway through and never looked back except for a couple moments late.
Bradley was right there with him, hooking to the body and fighting back every time Pacquiao landed a big punch.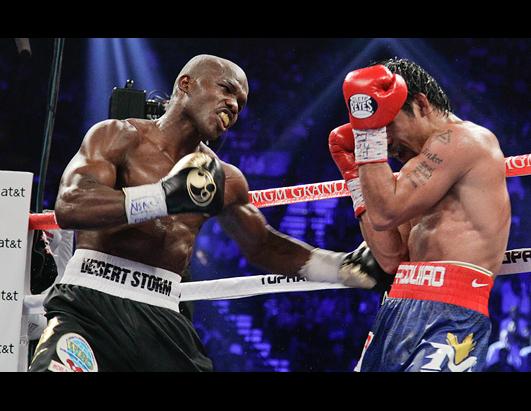 But it was not enough in the eyes of anyone to say "Tim Bradley clearly won this fight." But that said, it never matters what we think. It matters what the judges think. And in this case, they had Bradley ahead.
Maybe this is a wake up call. Nevada State Athletic Director Kieth Kizer decided to do an investigation into the fight on Tuesday. Top Rank's Bob Arum, the fight's promoter, has asked the Nevada state attorney general to look into the fight and is also calling for an independent investigation. Arum has also suggested an age limit for judges.
Maybe all this uproar will lead to something better for our sport. Maybe it is time for change for the better. We here at Boxing360 are new to boxing but quickly becoming wise to the needs of the fans. They want competitive fights where each man can win and get a fair shake if it goes the distance. That's our goal. Happy fighters, happy fans and a better. We would like to extend out gratitude to all involved for expressing their concern and putting it into action. Our sport deserves it.
Fight fans, as always, we would love to hear your thoughts on what we can do to help build a better boxing for our future.
---