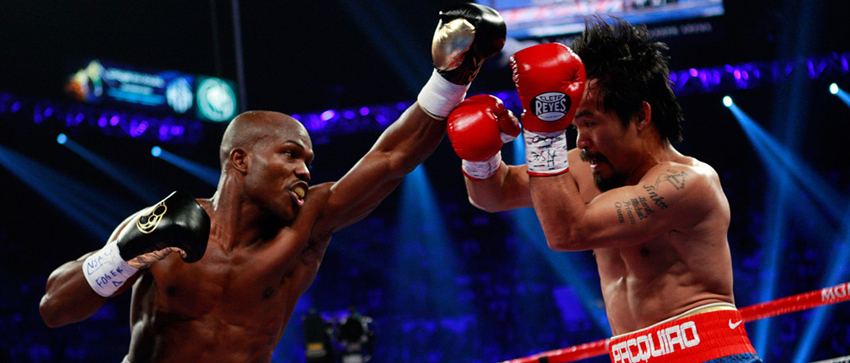 In what started as a much more competitive second part to what was considered a once-sided routing, Manny Pacquiao exacted his revenge last Saturday night from a packed MGM Grand Arena in Las Vegas, Nevada, over the previously undefeated Timothy "Desert Storm" Bradley.  In their first match-up back in 2012 Bradley took a very controversial split decision in a twelve round fight that nearly nobody saw him win.
Including himself.
In footage shown during HBO's "24/7", Bradley was seen being wheeled into an ambulance after the first fight due to two bad ankles suffered during the fight.  As he was being taken out, Bradley answered when asked what he thought of the decision he said that he would need to go back and watch the fight and see if he truly won.
This time there was no controversy or question of who actually won the fight.  Bradley began the fight slightly out-boxing with equally quick hands the southpaw Pacquiao.  It seemed as if Bradley continued the strategy he would have beaten Pacquiao but inexplicably, even to his trainer Joel Diaz, Bradley changed the game plan and instead went after Pacquiao and looked to knock him out by swinging for the fences.
It didn't work.
Despite hurting Pacquiao in the fourth, Bradley was not able to close the show as the thirty-five year old Pacquiao proved to have plenty in tank, taking over from the sixth round on and easily defeating one of the top five fighters on everybody's pound for pound lists.
Coming off a careful performance over Brandon Rios last November in China, Pacquiao looked to be back in the swing of things although losing a step or two in his quickness.  Pacquiao proved to Bradley and the boxing world that in fact he had not lost his "killer instinct" as he looked to finish Bradley during different points of the twelve-round fight.
Now the big question is who will Manny Pacquiao face next?
One contingent wants to see a fifth fight against Juan Manuel Marquez.  One major member of that group is Freddie Roach who has stated after Saturday night that the fifth installment of the continuing JMM-Pac saga is what he wants next to erase the image of a laid-out Pacquiao, the result of a well-placed right hand by Juan Manuel Marquez in the sixth round of their last fight in December of 2012.  The problem with this scenario is that an important piece of the puzzle, Marquez, has stated that he has no interest in a fifth fight with Pacquiao.  In fact, Marquez was offered a career high purse to be the dance partner for this past Saturday but he declined and instead decided to take a dangerous tune-up fight against Mike Alvarado.
Others feel that Bradley should get another shot at the Filipino congressman.  Some use the argument that with the win on Saturday night, Pacquiao has two fights over Bradley no matter what the record books say.  At the end of the day, a win is a win and there is a viable option for a lucrative rubber match for the two.
Pacquiao has been offered a date in November of this year but obviously no opponent.  Will it be Marquez? More than likely.  With a win over Alvarado, Marquez will be able to ask for even a higher pay-day than the one offered previously.
---