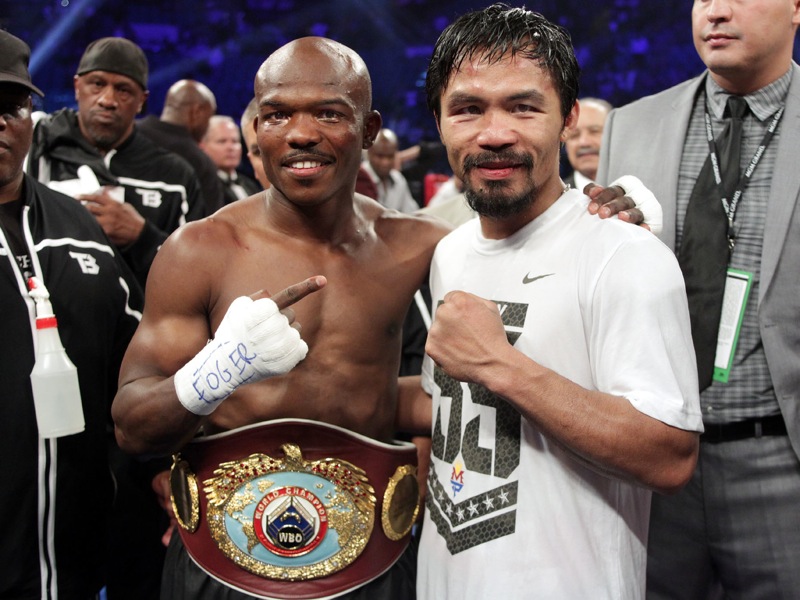 We are only about a week away from the anticipated rumble between undefeated WBO welterweight champion Timothy "Desert Storm" Bradley and Filipino wunderkind Manny "Pacman" Pacquiao next Saturday night in Las Vegas.  The bout will be broadcast live by HBO PPV.  The bout will be the second run for Bradley and Pacquiao. They first met back in 2012 where Bradley won a controversial split decision after hurting both of his ankles during the twelve round fight.  With the win Bradley captured the belt he holds now and since then has defended twice, once against Ruslan Provodnikov and Juan Manuel Marquez.
The promotion is in full swing with two successful media days held in Los Angeles this week and the traditional late night appearance by Manny.  An HBO Face/Off and a 24/7 have also been broadcast by the host network but the question remains, will the fight generate what it must?
Their first bout generated just shy of a million buys with 890K with Pacquiao's last fight, a foray into China with Brandon Rios, only did a disappointing 475K.  Bradley, not a big ticket or PPV seller by a long shot, has only participated in two mega events not broadcast by the normal cable airwaves.  His first was the aforementioned with Pacquiao; his second with Juan Manuel Marquez generated 375K.  The numbers leave the doubt that this fight will generate the always elusive but quite profitable one million PPV boxes.
In their first fight back in 2012 earned a guaranteed $26 million while Bradley walked away with not only the gift decision but also $5 million big ones.  It is said that for Top Rank to secure the services of Bradley for the rematch it had to offer him a very lucrative re-up contract which also prevents him from jumping across the street and becoming a future Floyd Mayweather Jr opponent.
For next week match up, Bradley is guaranteed twenty percent more than last time with a purse of $6 million while Pacquiao takes a pay cut and goes down to $20 million. It is rumored that Bradley asked for as much as $10 million to face Pacquiao for the second time but despite settling for less the deal that his wife, his manager after he let go of the influential Cameron Dunking, secured with Top Rank who offered much higher minimums whether he wins or loses his next fight.
The big question here is what is left for the future for either fighter.  It has been said time and time again that the winner of Marquez and Alvarado a month later in Los Angeles has been promised the winner of Bradley-Pacquiao.  If Bradley and Marquez were to be victorious, it would give us a rematch of their October 2013 fight which Bradley won.  If Alvarado wins, despite a slight upset it cannot justify a PPV event with Bradley-Alvarado on the title.
If Pacquiao and Marquez wins, then it's inevitable we will see a fifth fight between the two but are people really to shell out $60-70 to see that again?  With a win from Alvarado, Pacquiao can carry the PPV with the Denver native but it can be guessed that it would do even less than with Rios.  Many feel these questions are much more interesting than the actual fight on next Saturday.
---