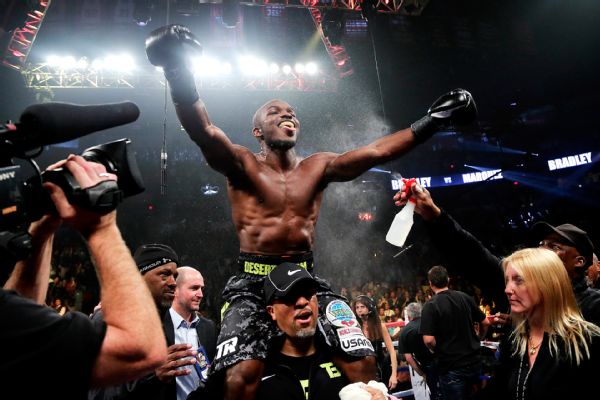 After the dominating performance of Manny Pacquiao this past Saturday night in Macau, China, over former lightweight champion Brandon "Bam Bam" Rios, it is no secret that the Filipino congressman is back.  Yes, Rios was made to order as a frontal fighter with not much defense who not only likes to get hit but lives for it.  Well, Rios had enough to celebrate since Pacquiao almost scored at will busting up the face of the proud fighter from Kansas.
Bob Arum, leader of Top Rank and promoter of Manny Pacquiao, promptly announced at the post fighter presser that Manny would find himself back in a United States boxing ring on April 12th.  Although alluding to a possible ultra-mega fight against one Floyd Joy Mayweather Jr, more realistic opponents would be prior conquerors Juan Manuel Marquez or Timothy Bradley.
A couple of days before the Pacquiao return at the Las Vegas of the East, the Mexican Marquez eight thousand miles away voiced his plans for his future through his trainer Nacho Beristain.  Beristain relayed the message from Marquez, who hasn't been really heard since his loss to the aforementioned Bradley a month ago, that the three-time in as many divisions champion would return to boxing only to face Bradley in a rematch preferably in Mexico.
All of sudden Bradley, who before his fight with Ruslan Provodnikov had not seen action for nearly nine months following his controversial win over the "Pacman", now finds himself on the same boat as Miguel Cotto.  Cotto is being courted by not only Golden Boy Promotions for an early 2014 bout with Saul "Canelo" Alvarez but also by Top Rank for the return bout of 160 lbs. WBC champ Sergio "Maravilla" Martinez.
So what is an undefeated, two-divisional world champion to do?
My guess is wait and see for the offers and the terms to meet his fancy.
The front runner here to face Bradley is Pacquiao if Marquez insists the fight happening in Mexico.  I don't see Bradley going to a foreign country to face a fighter that nobody but Marquez believed he did not defeat.  Pacquiao will also bring the bigger purse for Bradley and the opportunity for this time really defeating the Filipino star instead of getting the very generous nod that practically the whole boxing world thought he got.
The one thing that Pacquiao and Marquez are forgetting is that this is a quick-fisted, tough and not-easily-to-hit Bradley and that a rematch does not constitute a win over the Palm Springs fighter.  Either one of them still has to actually get in the ring with Bradley and actually strike him with his fists.
The one thing that is sure is that Bradley is in no rush to choose since he is the one being asked to dance and all eyes are on him.  There is no doubt that his manager, Cameron Dunkin, as well as his wife who helps handle his affairs, will make sure that this potential tug-o'-war between Pacquiao and Marquez for his services will be quite lucrative for his pocketbook…
---