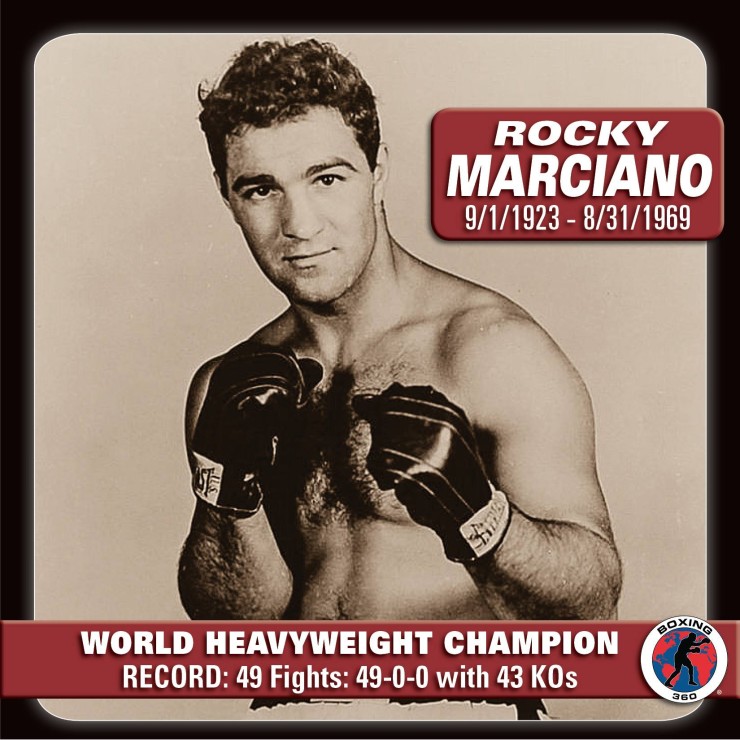 August 31, 1969, on the eve of his 46th birthday,
ROCKY MARCIANO, former world heavyweight champion who retired from the ring undefeated, died instantly in a light plane crash in Central Iowa.
Marciano, who would have been 46 the following day, and two other men were killed when their single-engine Cessna 172 lost power, struck a tree and crashed into a pasture.
…
The other victims were identified as Frank Garrell, 28, and Glen Beltz, 37, both of Des Moines, Iowa. Beltz was the pilot.
Marciano's body was trapped in the wreckage of the plane. The bodies of the other two were thrown clear.
"The only thing we can find out so far was that the engine went out and they went down," said Hurley. The Federal Aviation Administration started an inquiry.
The crash occurred about 1 ½ miles (2.4 kms) from the new Municipal airport in this community 25 miles (40 kms) east of Des Moines.
Real name Rocco Francis Marchegiano, he was born in Brockton in Massachusetts on September 1, 1923. Apart from bare-fist street scrapping and later as a member of a boys' club, he did not consider the ring as a means of livelihood until he came to England with the American forces during the war.
One of the most popular boxers since Jack Dempsey ruled as heavyweight king, Marciano compiled a perfect record of 49 victories – 43 of them inside the distance – before retiring as undefeated heavyweight champ on April 27, 1956.
CASSIUS CLAY, deposed heavyweight champion, expressed admiration for rocky "as a nice, humble gentleman."
"I got to know him while we were filming a computer fight not long ago," Clay said. "He was so great and so popular, and yet he never showed conceit. He was always so down to earth."
It's a tragedy. He was a proper gentleman. Boxing can ill afford to lose men like him – HENRY COOPER, European and empire heavyweight champion.
Rocky's death was the saddest news I've ever heard. Rocky just had a good heart. He put everything he had into his boxing. – JOE LOUIS, Former world heavyweight champion.
---