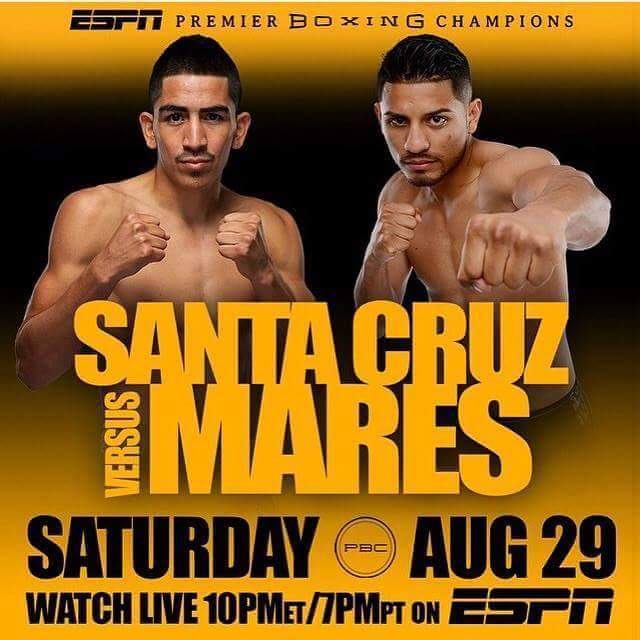 By the news that was released this week, it looks like finally the tale of Mares vs Santa Cruz will finally have its conclusion with the fight between the two announced for August 29th at the Staples Center in downtown Los Angeles. Tickets went out at the end of this last week and for all intents and purposes, the event is sold out. The battle will be waged in the featherweight division and broadcast live on ESPN as part of the Premier Boxing Champions series which both are a part of.
The fight has years in the making dating back to when both fighters were under the banner of Golden Boy Promotions.
Its roots sprouted back in 2012 when the undefeated Santa Cruz (30-0-1, 17KO) fought five times and reminded the boxing world of a throwback fighter. That year Santa Cruz Alejandro Hernandez, Vusi Malinga, Eric Morel, Victor Zaleta and Alberto Guevara. The win over Malinga gave him the vacant IBF bantamweight title. He defended the title with wins over Morel, Zaleta and Guevara. Interestingly, in his fight against Zaleta, Santa Cruz was the semi-main event to Abner Mares defending his then WBC super bantamweight title against Anselmo "Chemito" Moreno at the Staples Center in September of 2012. That might have been the first time that Mares, who at that time was also riding a nice sized popularity wave, was asked about a fight with Leo Santa Cruz. Mares replied that he did not know who Santa Cruz was despite living in the same city, frequenting the same gyms and being with the same promoter.
Santa Cruz slowed down in '13, only fighting three times but capturing the WBC 122 pound title against "Vikingo" Terrazas in quite possibly his best outing yet. In 2014 he defended his title twice but began to not impressive the fight fans who began to demand better opposition than the faded Cristian Mijares and the unknown Manuel Roman. This year has not fared any better for Santa Cruz with wins over Jesus Ruiz and the fattened up Jose Cayetano in his last fight on the undercard of MayPac.
The story for Mares hasn't been any better.
Since that win over Moreno in late 2012, Mares stepped up to featherweight and knocked out Daniel Ponce De Leon in nine to capture the WBC strap but promptly lost it in his first defense via a first round knockout at the fist of Jhonny Gonzalez. A rematch was never made, Mares left his long-time manager Frank Espinoza and jumped ship to Al Haymon leaving Golden Boy Promotions too.
Good thing that by that time Santa Cruz was also and is under the Al Haymon thumb.
Since then Mares has looked remedial with wins over Jonathan Oquendo, Jose Ramirez and Arturo Santos Reyes.
Both need this fight but who needs it more. The young champion who had great potential in Santa Cruz who never really reached it or the former world champion who wants to get back to what he once was in Mares?
---