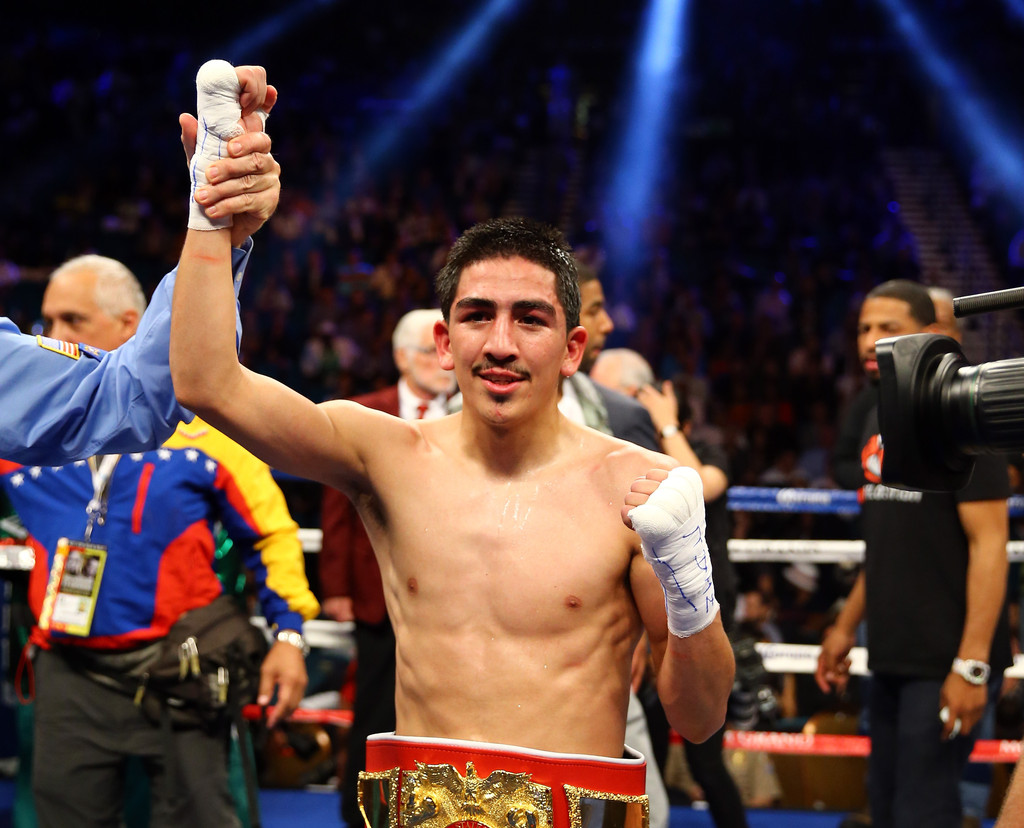 Current WBC super-bantamweight champion Leo Santa Cruz finds himself in quite a predicament. He got the call a couple of weeks ago to participate on the Pay-Per-View portion of the most anticipated fight card in recent years, the Floyd Mayweather Jr Vs Manny Pacquiao set for Saturday, May 2nd, at the MGM Grand Arena in Las Vegas, but doesn't have the most important accessory to be able to fight.  No not the gloves, or his mouth protector or even his trunks, he is dire need of an opponent.
As it was reported in an earlier blog, as soon as Santa Cruz was going to fight on the card, one of the first to raise his hand to say he was willing to face him was none other than three-division world champion Abner Mares.  Despite it would only give him three weeks of camp, Mares said he would more than ready to give fight fans the fight many of us have been waiting for but Santa Cruz all of a sudden became part of Team Mares stating on a popular Mexican radio show that three weeks wasn't enough time for Mares to give ready.
The first name mentioned for Santa Cruz was Hungarian Zsolt Bedak (24-1, 8KO).  As soon as the announcement was made, the WBC shared that it would not sanction the fight as a world title so instead it was programmed as a ten rounder.  No reason was given of why Bedak will not face Santa Cruz but it might have to do with the fact that the only time Bedak has fought outside of Europe, it was in a loss to super-bantamweight Wilfredo Vazquez Jr.  Other names that have also been mentioned have been Alexis Santiago (18-3-1, 8KO) a no-hoper from Phoenix, AZ, and French Anthony Settoul (20-3, 8KO).  Settoul has never fought outside of his native France and suffered all this three defeats there.
The call went out today to all matchmakers who are willing to listen, and with the potential sizeable of the booking fee involved it might be every one of them in the Western Hemisphere, that the search was on for a suitable opponent for Santa Cruz.
The fact that this fight will be the semi-main event of Mayweather Jr  vs. Pacquiao, shouldn't it be a name we know?
The only one that makes sense here is Mares and that fight should be easy to make since both are advised by Al Haymon but it is obvious that they might be holding that fight off for it to be an event, possibly at the Staples Center, that stands on its own two feet.
Seemingly with everything, to do with this promotion, the announcement, the ticket sales, and pretty much everything else, the Santa Cruz fight has not gone according to plan.  Despite Haymon and Mayweather Promotions having some of the biggest names in the sport under their umbrella, it is obvious that they don't have the know-how to put together an event of his magnitude.
Must be driving Bob Arum insane.
---