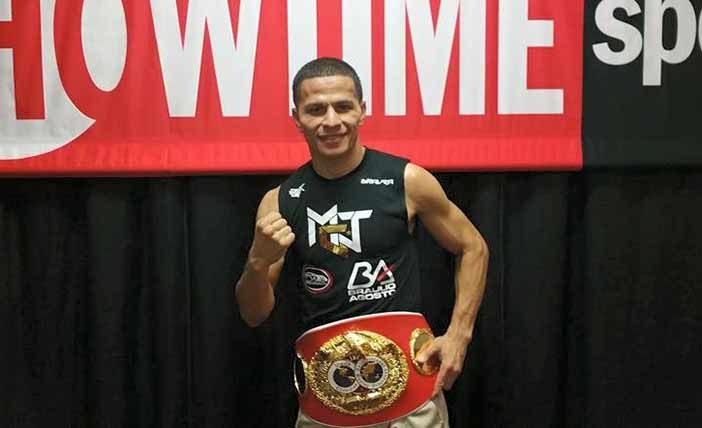 Former Olympian Mcjoe Arroyo of Puerto Rico will make the first defense (17-0, 8 KOs) of his IBF super flyweight title February 20th. Arroyo will take on world ranked Jerwin Ancajas (24-1-1, 16 KOs) of the Philippines. The bout will take place in Puerto Rico with Puerto Rico Best Boxing promoting the event. Arroyo won his title this past July versus unbeaten filipino Arthur Villanueva. The bout was aired on Showtime but was not a very exciting matchup.
His world title winning victory was not a thriller but what's most important is he won. It has been a long road for Arroyo to achieve this goal. He and his twin brother McWilliams were very successful amateurs and represented Puerto Rico in the 2008 Olympic games. McWilliams actually won gold at the 2009 World Amateur Boxing Championship games while McJoe lost in the final. When the twins turned professional in 2010 it was actually McWilliams who many thought would become world champion before McJoe. McWilliams got the world title opportunity first in 2014 but came up short losing by split decision.
McWilliams may join his brother as a world champion one day soon but for now it is McJoe's moment. He has a tough task in Ancajas who is a young and hungry southpaw with world championship dreams of his own. McJoe is the world champion but it is very important that he retain his world title and move on to bigger fight opportunities. He is 30 years of age which is not considered young for this weight division. The big money fights in his weight class seem to be either unifications with a world champion in Japan or a defense against a world ranked challenger there. He has also reportedly signed with powerful boxing advisor Al Haymon which could also be a big factor in him landing some lucrative fights. Arroyo must get past Ancajas before any of these possibilities can become a reality.
---