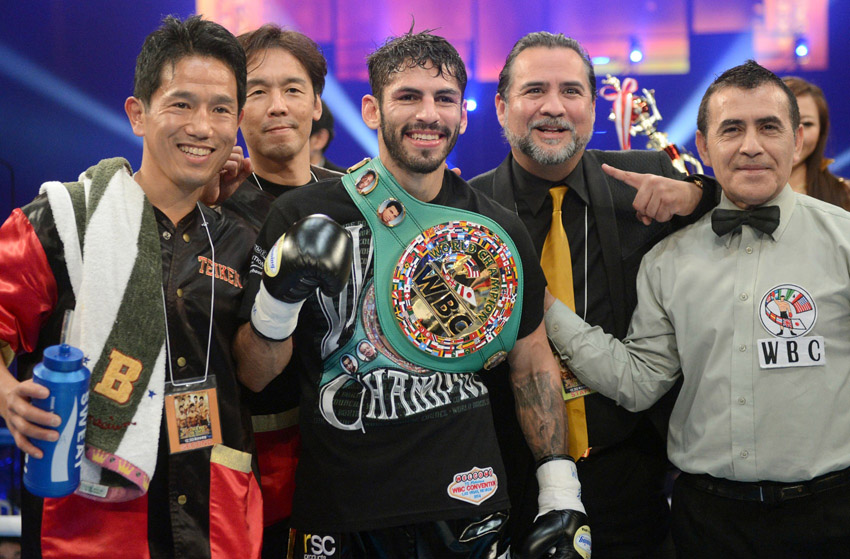 WBC world Lightweight champion Jorge "El Niño de Oro" Linares (38-3, 25 KOs) has a tough title defense ahead of him on May 30th. Linares will take on mandatory challenger Kevin Mithchell  (39-2, 29 KOs) of the UK.  It will be the second attempt at a world title for Mitchell who failed in 2012 vs. champion Nicky Cook by 4th round TKO in Cook's native Scotland. This time Mitchell will be fighting in his place of birth London and will no doubt have the full support of the locals. This will be nothing new for Linares who has become accustomed to tough challenges.
Linares a native of Venezuela is just 29 years old but his career has had multiple ups and downs.  Linares turned pro in 2002 after a very solid amateur career at just 17 years old. He would  be signed by Japan's lead boxing promoter Teiken Boxing Gym which is headed by hall of fame promoter Akihiko Honda. He would be properly moved and kept active in japan for the better part of nearly 5 years.  Linares would get his first chance at a world title in July  2007. He entered as the underdog against former world champion Oscar Larios. Larios had over 60 fights to Linares' 23. The bout would be for the vacant WBC Featherweight title televised on HBO PPV. It was also Linares U.S. debut. Linares would shine under the bright lights and stop the game Larios by way of 10th round TKO. Linares was a world champion for the first time and just 21 years old.
The following year Linares would become a two- time world champion after stopping Panamanian Whyber Garcia in Garcia's native Panama by way of 5th round TKO. Linares would win the WBA super featherweight earning his second world title in as many divisions. Linares would return to Japan the following year to defend his title against relatively unknown but unbeaten Juan Carlos Salgado of Mexico. The underdog Salgado wasted no time and dropped Linares twice early in round 1 and stopped Linares in just 73 seconds. The unthinkable had happened.   Linares was now exposed and questions arised about his chin. Linares would not return to the ring for nearly 6 months.
Linares would string together four more victories following his first career loss. He looked to be back in proper form and would get his chance to win his third world title in his third division. The defending WBC world lightweight champion he would face would be Antonio DeMarco of Mexico. Linares dominated the action the first half of the fight with his overall superior boxing skills. Some adversity would strike in round six where Linares was cut on the bridge of his nose and it would keep on bleeding for the remainder of the fight. Things got more complicated for Linares as a cut developed over his right eye and his face was now a bloody mess. Linares somehow through it all was still in control of the fight entering round 11 and well ahead on the official judges' scorecards. DeMarco knowing he was behind on points showed the heart of champion and got his opportunity to exchange with Linares. It was a costly mistake for Linares as he clearly got the worst of the exchanges and DeMarco stopped him moments later. Linares would again take a 6 month hiatus from the ring but things would go from bad to worse. He would take on Mexican native Sergio Thompson in his hometown where Linares would be dropped in round 2 and stopped due to a cut in the very same round. Linares at just 26 years of age seemed to have seen his best days.
Linares keeping with his trend after a loss returned again about 6 months later. He would reel of 6 straight wins and get yet another opportunity at that elusive third world title. This past December Linares met Mexican Javier Prieto for the vacant WBC Lightweight title in Japan. Linares was favored but there was still doubt as all of Linares losses have been to Mexican fighters and all inside the distance. Prieto entered having gone unbeaten in his last 10 fights and carried a solid punch. Linares would not be denied this time and KO'd Prieto in round 4. There would not be alot of time to celebrate as Mitchell would become the mandatory about a month later. Mitchell might actually have more pressure on him in this fight than Linares.  Mitchell defeated Bredis Presscott about a year after Presscott had upset and knocked out unbeaten Amir Khan in round 1. Expectations were high for the unbeaten Mitchell but he would go just 3 and 2 in wins and losses in his next 5 fights following the Prescott win.  Mitchell will be hungry for sure to take Linares title and Linares will be just as hungry to remain champion. This fight could have a very unpredictable outcome but this is becoming normal in world title fights involving linares.
---