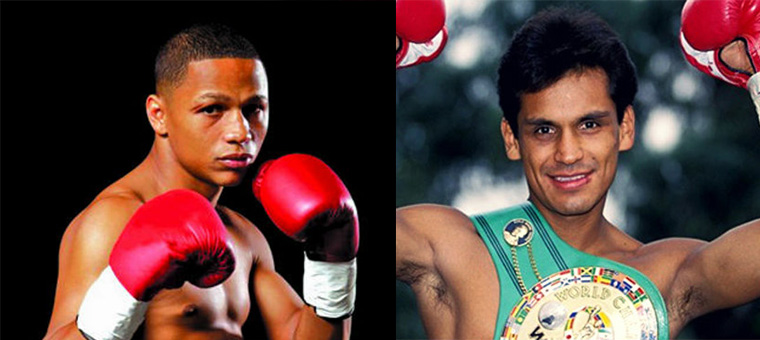 The debate last week was which heavyweight champion had the more dominant reign. The two options of choice were Larry Holmes and current champion Wladimir Klitschko. Holmes posted some very impressive numbers during his reign from 1978-1985. Klitschko has been heavyweight champion of the world since 2006. He has already surpassed Holmes in terms of longevity as champion but Holmes was undefeated a lot longer overall as a professional before his first loss. The feedback seemed to be a split as there was a lot of solid numbers put up by both world champions.
The smaller weight classes  have produced some excellent fights over the years and they still are today. The biggest name currently is unbeaten world champion Roman  "Chocolatito" Gonzalez who recently fought on HBO. In the 1990's it was Ricardo "Finito" Lopez who dominated. He was followed by Ivan  "Iron Boy" Calderon who dominated for a good portion of the 2000's decade. The two just missed each other by a few years and fans never got to see such an outstanding matchup. It would have been spiced up that much more with the whole Puerto Rico vs. Mexico matchup added to the mix. We decided to breakdown both fighters and let you decide on how you think the fight would have played out in the end had they fought.
Lopez of Mexico had one of the most underrated careers as a world champion. His record was an outstanding one where he finished unbeaten at (51-0-1, 38KOs).  He was a world champion at both 105 and 108 pounds. He opened for some of the biggest televised and ppv fight cards during the 1990's. The undercards of such fighters as Felix Trinidad, Mike Tyson, Julio Cesar Chavez Jr. to name some. Lopez defended all over the globe in countries such as Japan, Thailand, South Korea, and the U.S. in boxing's elite places such as Las Vegas and the famed Madison Square Garden in New York.   His championship reign in both divisions lasted more than a decade where he retired as a world champion. Lopez also held world titles of all 4 major sanctioning bodies at some point during his reign as a world champion.
Calderon (35-3-1, 6KOs) of Puerto Rico in his prime was arguably one of the best defensive fighters of his era. His ability to hit and not get hit was truly something special to watch. Those who are fans of the true sweet science were able to appreciate his genius in the ring. He was also a major draw in his native Puerto Rico where he fought the majority of his fights. He did venture out of Puerto Rico on occasions in his prime with success. Impressive given the fact that he wasn't a puncher and decisioned the hometown fighters on their turf. He also won world titles at both 105 and 108 pounds.
Our debate is who would you have favored in a bout between both fighters in their primes. The overall numbers seem to favor Lopez. Keep in mind that Calderon started late as a professional at 26 years of age. Lopez turned professional at 18 years of age. Lopez for all of his accomplishments never  the draw in Mexico that Calderon was in Puerto Rico. A fight between the two had a better chance of being a main event and bigger fight in Puerto Rico than anywhere else. That being said please give us your take on how you would see this fight playing out between these two in Puerto Rico with both fighters in their primes. Lopez you could say was in his prime up until the very end as he was still fighting at a high level. Calderon seemed to peak with his two wins over Hugo Cazares so let's say that would be the Calderon to match up with Lopez.
---