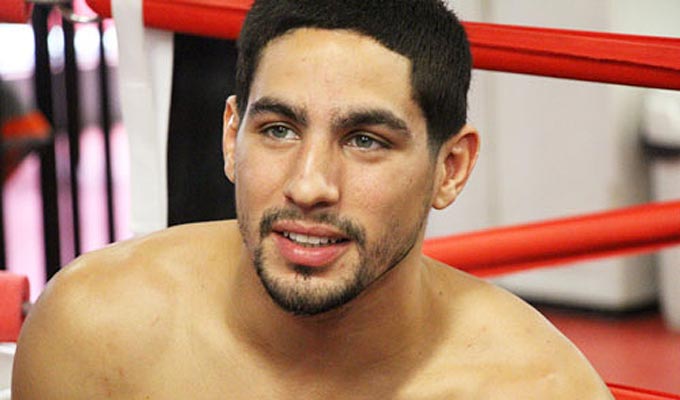 Despite his two light welterweight titles, nobody wants to be Danny "Swift" Garcia right now.  Ever since his next fight scheduled for tomorrow night in Brooklyn, New York, against career lightweight Rod Salka, the social media world has dropped on his head and the head of Showtime's Stephen Espinoza regarding his choice of opponent.  The odds makers have put Salka as a very wide margin underdog.  So much so, that both the WBA and the WBC, the titles that Garcia holds, did not accept Salka as a viable challenger for their belts.
Garcia on his trek to become one of the most popular fighters in boxing and proving he will fight only the best, has quite possibly painted himself into a corner.
One of the first signees to Golden Boy Promotions and also under the auspices of Al Haymon, many consider that he stepped up for the first time when he faced former world champ Nate Campbell.  He defeated him via ten round unanimous decision. From there he took on hard hitting Kendall Holt beating him via split decision back 2011.  Early in 2012 he went to war with tough Tijuana veteran Erik "Terrible" Morales.  In a grueling twelve-round battle, Garcia struggled but finally was able to drop the resilient "Terrible" in the 11th en route to a unanimous decision.  With the win Garcia captured the WBC light welterweight title.  He stopped Amir Khan in four and then in the rematch against Morales, this time stopping him in four.
He went tooth and nail against former champ Zab Judah and then took on his biggest challenge to date in the likes of Argentinean "Machine" Lucas Matthysse on the undercard of Mayweather-Alvarez last year.  Many saw this as the end of Garcia's remarkable run but after the initial third of the fight, Garcia proved to be the not only the better fighter but the smarter one as he never fully engaged with the heavy-handed Matthysse as he was able to close his opponent's right eye in front of his biggest worldwide audience.
In what was supposed to be a keep busy fight, Garcia traveled to the land of his parents, Puerto Rico, and instead of getting an easy win over Mauricio Herrera, he returned home to Philadelphia with what many believed was an early Easter gift last March.
Now he faces the nobody-ever-heard-of Salka.  With only three knockdown and three losses already on his record, his last one to unheralded Ricardo Alvarez, the brother of "Canelo", nobody expects anything from Salka.  The same could have been said of the aforementioned Herrera but in defense of the Riverside, CA, fighter, he beat former light welterweight champion Ruslan Provodnikov some years ago.  Salka's biggest win to date has been over previously undefeated Alexei Collado in his last fight. Who you ask?
Exactly.
The only silver lining on all this is that Stephen Espinoza has said that if Garcia and IBF champ Lamont Peterson, who faces Edgar Santana in the semi-main event, come out victorious, they will face off in a true unification fight in December.  Now that is something to look forward to.
---