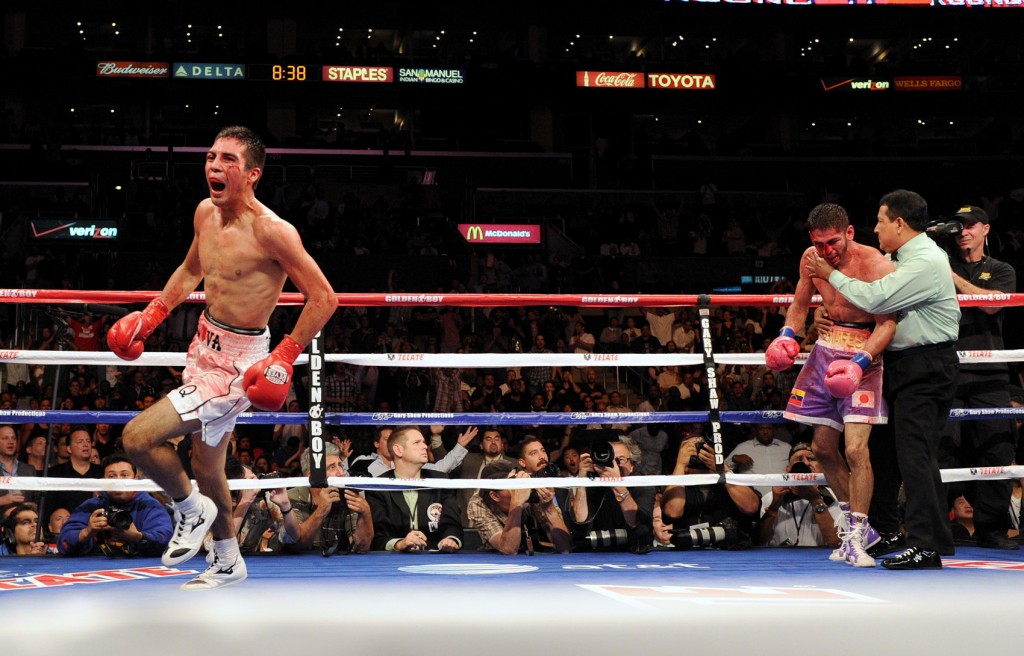 In a move reminiscent of Japanese boxing, Al Haymon's PBC on CBS when it presents a fight card on a Sunday, June 21st, from the MGM Grand Arena in the city of sin, Las Vegas, Nevada.  In the main event, former world champions Antonio DeMarco (31-4-1, 23KO) will face Rances Barthelemy (22-0, 13KO) in a super lightweight bout.  Also on the card will be undefeated welterweight Sammy Vasquez (18-0, 13KO) against tough Wale Omotoso (25-1, 21KO).
The fight will mark the first time the twenty-eight year old Barthelemy of Cuba performs at the 140-pound limit.  In his last fight, he faced unknown Angino Perez at 137.5 pounds up from his natural weight class of super featherweight.  The Cuban is best known for his controversial fight against Argenis Mendez back in early January of 2013.  Broadcast live by ESPN from all places Minneapolis, MN; Barthelemy caught the then IBF super featherweight champion Mendez with two punches right at the bell.  One struck before but the second did after but that was the punch that knocked out Mendez.  At the time Barthelemy was awarded the belt but weeks later after it was reviewed by the state commission, the decision was reversed to a "no-contest".
They fought again six months later and this time Barthelemy defeated Mendez easily via a unanimous decision.  Since then Barthelemy defended his title, signed with Al Haymon and jumped in weight in the aforementioned fight.
DeMarco has been a different story all together. Good enough at soccer as young teenager to get on the youth team of a major Mexican team, he decided to switch to boxing at the age of fourteen.  Originally from the boxing hotbed of Los Mochis, he found his way to Tijuana and Mr. Romulo Quirarte, one of the most underrated Mexican trainers of all time.  Ten years later he found himself in the ring against the late great Edwin Valero in his first opportunity for a world title, he gave Valero the toughest fight of the Venezuelan's career, turned out to be Valero's last fight as he committed suicide months later.
The southpaw DeMarco, 29, one the vacant WBC lightweight title a year later and he did it in style.  After losing the majority of the fight, he stopped Jorge Linares in spectacular fashion in the 11th round.   He defended it twice before getting stopped by "The Problem" Adrien Broner in eight.  He is coming off a loss against the      former WBA 140lbs champ Jessie Vargas last November.
What does this fight do for either fighter?
A win here will solidify Barthelemy as a force to be reckoned in the new division.  DeMarco might not be a top ten at 140-pounds but he is a former world champion and has been campaigning at the weight for longer.  A heavy hitter, it would prove that Barthelemy could take a punch from the bigger fighters at the weight.  For DeMarco, it keeps him relevant, after his loss to Vargas; he is on the brink of being forgotten.
He needs the win more than anybody.
---