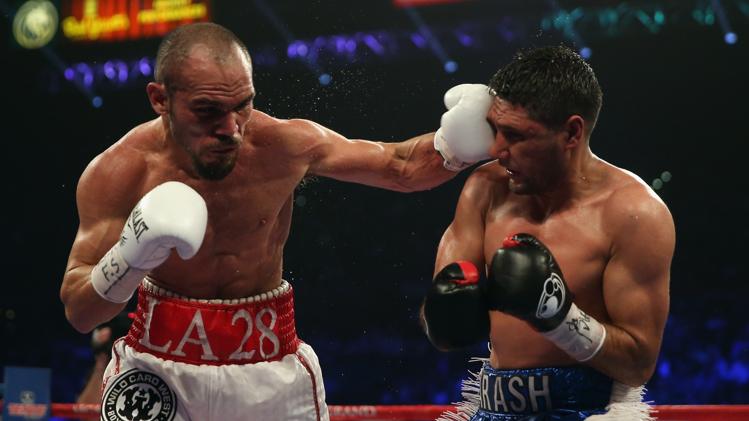 While Filipino phenom Manny Pacquiao exacted his revenge over previously undefeated Timothy Bradley this past Saturday night from the MGM Grand Arena in the city of sin, Las Vegas, and broadcast live on HBO PPV, other fighters on the same card where looking for their own type of redemption.  One of them was Los Mochis, Mexico's Ray "Sugar Ray" Beltran.  In the semi-main event, the thirty-two year old Beltran defeated late-sub Arash Usmanee of Montreal, Canada, by way of Afghanistan for the vacant WBO NABO lightweight title.  Beltran earned a hard fought unanimous decision with scores of 118-110 and 117-111 twice over twelve competitive rounds.
With the win, Beltran is next line for yet another title opportunity but this time against American Terrence Crawford.  In his last attempt, Beltran traveled across the pond to face Ricky Burns in the Scot's backyard of Glasgow.  In the eyes of many, Burns was awarded a controversial draw allowing him to retain the title.  After recovering from a broken jaw issued by Beltran, Burns finally was given his just due at the hands of Crawford who also traveled to Scotland for the WBO title in early March.
After former super featherweight world champion Roman "Rocky" Martinez pulled out of his scheduled lightweight debut against Beltran this past Saturday due to illness, the tough Arash Usmanee got the nod.  The natural 130-pounder Afghani stepped onto the biggest stage of his career and gave a valiant effort against the much stronger and aggressive Beltran.  Despite the war that he waged this past Saturday night, it can only be expected that the thirty-six minutes of action have not been the toughest moments of Usmanee's life.
After his father was killed by a missile in his war-torn native country of Afghanistan, Usmanee immigrated to Canada with his mother and other family at the age of twelve.  Five years later Usmanee found himself in a gym and in 2008 he nearly qualified for the Canadian national team for that year's Beijing, China's Summer Olympic Games.  Failing in his Olympic bid, Usmanee went pro in early '09 with a win over Richar Cuaran.  Three years later Usmanee captured the WBC Continental Americas lightweight title with a unanimous decision over the previously undefeated Chris Howard.  A year later he fought to a controversial draw against IBF champ Argenis Mendez in August of 2018.
In Beltran, Usmanee faced a hard as nails fighter from the Mexican hotbed of Los Mochis.  Best known for his work as one of Manny Pacquiao's chief sparring partners in year's past, Beltran recently moved his camp from the famed Wild Card Gym in Hollywood to the new Wild Card Gym West in Santa Monica to move away from that distinction.
The fight Saturday night was one of the contrasting styles with Beltran the brawler and Usmanee the boxer.  Beltran overpowered Usmanee for most of the fight but Arash did not hesitate at times to stand his ground and go toe-to-toe with the Mexican.  The best of the twelve rounds was saved for the end as both were content to exchange heavy artillery for the last twenty seconds of the fight.
As mentioned before, the win gives Beltran a nearly guaranteed chance for the title in what should be a more even playing field in the United States while Usmanee's performance surely gives him his shot at redemption in the near future although it cannot be expected it would be against Beltran.
---