While the rest of the boxing world debates the outcome of Chad Dawson vs. Andre Ward, this fight, DeMarco vs. Molina, sits quietly waiting to become a Fight of the Week and eventually the Year. When you have two men this hungry with the kinds of styles that make stepping back a no no.
WBC lightweight champ Demarco has seen it all. The last victory of the late, great and crazy as Hell Edwin Valero, DeMarco has since defeated the likes of Jorge Linares in a brutal war that showed DeMarco's toughness and calm under fire.
John Molina, Jr might be a one-dimensional fighter but that dimension of a come forward brawler with an iron right hand fist has gotten him to this point. Against Hank Lundy he probably lost every second of every round and yet he dropped Lundy late before stopping him.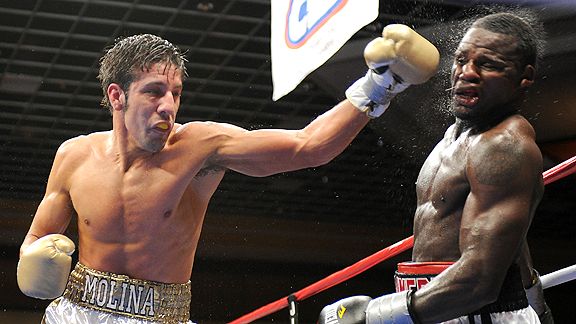 Can Molina do the same vs. DeMarco? Will he ever get a chance to land that right hand? Or will DeMarco, now an experienced fighter with name scalps to call his own be too much for DeMarco?
So many questions. The only one we already know the answer to: its going to be a great fight.
---