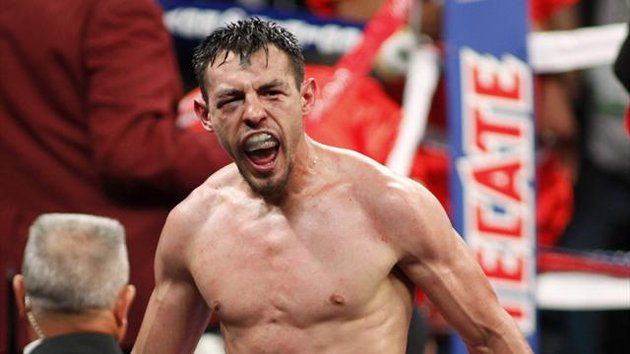 Events moved rapidly in the latest saga of the Robert "Ghost" Guerrero story.  Last week, it was announced by Team Guerrero that his lawyer Bruce Zabarauskas had served Golden Boy Promotions with papers stating that Guerrero wanted out of his contract with the company and that the "term sheet" he signed in January of last year was illegal.  This week the California State Athletic Commission ruled since the contract was signed under the auspices of the state of New York, they would bounce back the ball to their jurisdiction.
Last May, Guerrero faced Floyd Mayweather Jr in a lopsided loss for the biggest purse of his career, a reported three million dollars.
Guerrero told everybody and anybody that would lend an ear how bad he wanted the Mayweather fight and how he had the answer for the Floyd riddle, so much so that his team bombarded every boxing writer with almost daily press releases of why he was the best choice for Mayweather to open his Showtime agreement.  Turned out to be Mayweather's worst showing as far as PPV numbers with less than one million and since then, not a peep has been heard from the former three-time divisional champion.
It is not the first time that Guerrero attempts to not honor a contract he has signed.  The first time he succeeded.
In 2008, after a lengthy arbitration with the California commission, Guerrero was released from his contract with Goosen Tutor claiming that no agreement should be held for more than 5 years and that the promoter violated the Muhammad Ali act by not providing Guerrero with full disclosure regarding monies in connection of two of his bouts.  Immediately after the commission ruled in his favor, Guerrero signed with Golden Boy Promotions.
Richard Schaeffer of Golden Boy Promotions stated that he felt confident that New York would rule in the favor of his company since they have complied with the minimum number of fights and purses the contract dictates.  He also mentioned the best for all those involved would be for them to sit down, speak about their differences and get back to work.
Golden Boy offered Guerrero a interim title fight, despite his loss to Mayweather, against Keith Thurman for last December on Showtime as the semi-main event for Maidana vs Broner.  Guerrero denied and in his stead, Jesus Soto-Karass stepped in and was stopped before the limit.
This is the not first long pause for Guerrero in his career.  Guerrero has stood by his wife's, Casey, battle with leukemia as well as suffering some setbacks due to injuries.
It is rumored that the thirty-year old fighter may or may not be in the running to fight Manny Pacquiao in the future, the only other opponent that might give him a purse near his career high.  To do that, he must first free himself from his Golden Boy contract.  Guerrero has not spoken publicly of his desire to leave his present promoter and Bob Arum has denied of any talks with Guerrero.
---