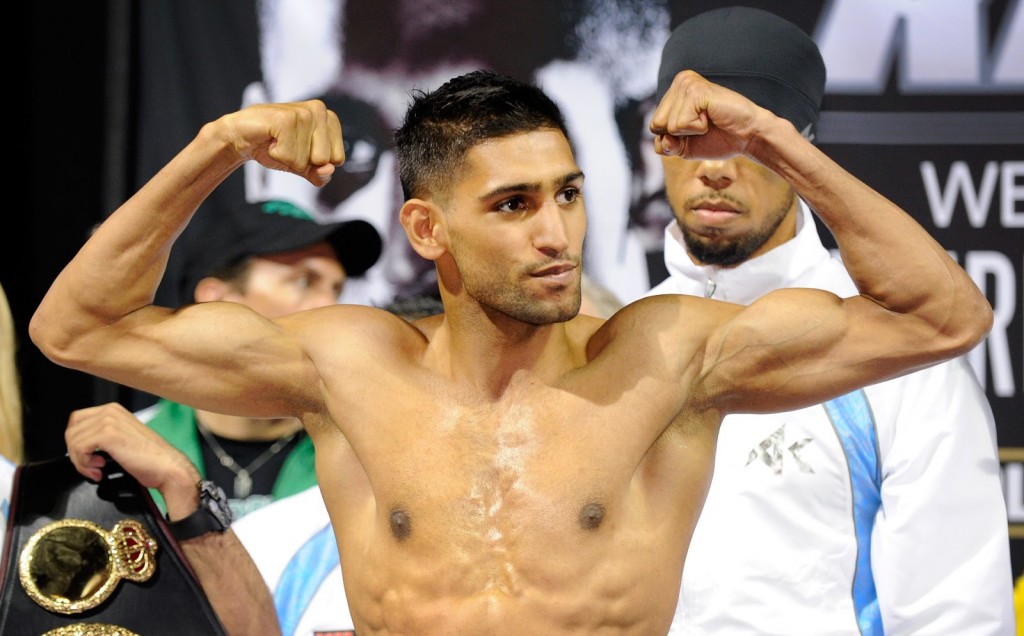 Depending on whom you believe, Floyd Mayweather Jr's next opponent will either be former two-time world champion Amir "King" Khan or current welterweight champion Marcos "Chino" Maidana on May 3rd at the MGM Grand Arena in Las Vegas, Nevada.  Despite the date being announced hours after his last fight, a twelve round shellacking of the former undefeated and current Mexican super star Saul "Canelo" Alvarez last September, just last week  Mayweather asked his followers to vote for his next opponent giving the two choices.  This past weekend Mayweather Jr closed the poll on his website and despite Maidana leading early on, Khan finished strong after asking his near two million twitter followers to visit the site and vote.
Does that mean that we definitely will see Mayweather-Khan?
As of now, Mayweather Jr has not made an offer.  Khan on the other hand has stated that he signed a contract to face Mayweather Jr as far back as December but still has not received his copy with the pound for pound's #1 fighter signature.
With now viable opponents with big enough names and with styles that would make sense for Mayweather Jr, it was long believed that Khan was the logical choice for Mayweather Jr after Floyd, who holds a record of forty-five wins, no defeats and twenty-six knockouts, easily defeated the aforementioned Alvarez with a majority decision.  "The One", as the event was billed by Mayweather Promotions and Golden Boy, was the biggest in the last decade with over two million PPV buys and a record breaking gate.  There is no other fighter active that could possibly reach the same heights paired with Floyd so Khan, who is known to the boxing public as a former world champ and has performed on cable TV plenty of times, was the next logical step in fulfilling Mayweather's six bout contract with Showtime.
Cue in Marcos Maidana.
Maidana literally knocked down the door into the Mayweather sweepstakes by dropping the self-proclaimed Mayweather Jr heir Adrien "The Problem" Broner twice last December 14th in San Antonio. Maidana, who had never even been mentioned in the same breath as Mayweather, all of sudden was the next viable man to face the biggest paycheck in boxing seconds after he was announced the winner and Maidana was being rained on by beer and spit.
Many critics say that we have seen the Maidana fight before.  Despite Maidana's toughness and the respected Robert Garcia in his corner, nobody is expecting him to invent the wheel and figure out how to beat Mayweather Jr with the same plodding style that perhaps Robert Guerrero and Alvarez have used against "Money".
Fans and writers alike would rather see Khan, despite his reputation for a weak chin, is athletic and quick.  Will he be able to discipline enough to stay out of the pocket and not allow Mayweather Jr to tag him with lead rights?  That is a question that Virgil Hunter, Khan's trainer, must answer through his strategy.
Some say the Khan has all the makings to become the latest KO victim for Mayweather Jr, something we have not seen since late 2011 when he jumped on Victor Ortiz.  His last clean knock out with was a technical one over Ricky Hatton in December of '07.
A formal announcement is expected sometime soon.
---