At The Chumash Casino, Santa Ynez, CA
ESPN2
Vernon Paris (24-0) vs. Tim Coleman (19-1-1):
Tito's Pick? "I'd like him to be the first man I beat to death in the ring." yup. That's what Coleman said on FNF. I love this fight. We don;t get too many hard grudge matches like this one. These guys went at it in the fight hotel after the weigh in and got both kicked out. I'm going with Coleman by TKO. He seems the more experienced guy. The more determined man. And Paris looks like a kid to me.
Cristobal Cruz (39-12-2) vs. Art Hovhannesyan (14-0-1)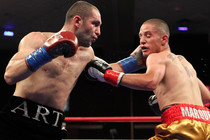 Tito's Pick: Cruz is the crafty vet. Hovhannesyan is a brawler who is always ion good fights. I'm going with Hovhannesyan by decision.
---