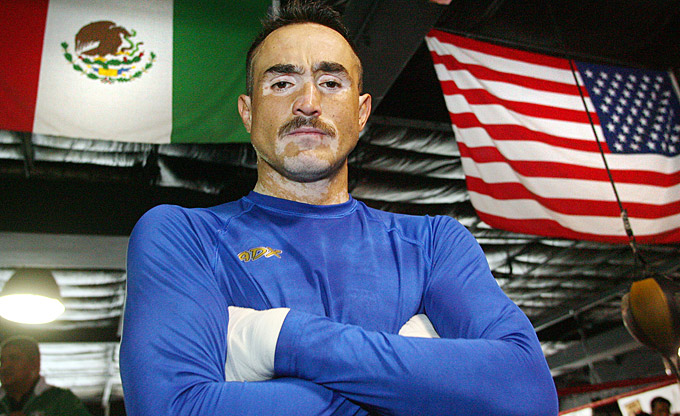 It is going to be a rambunctious affair this Saturday night in Carson, California, when rising star Gennady "GGG" Golovkin defends his WBA and IBO middleweight title while Mexican Marco Antonio "Veneno" Rubio puts up his interim WBC strap in the ring of the StubHub Center.  Broadcast live by HBO, it will mark the third time Golovkin fights this year.  Originally scheduled for to go perhaps four times in 2014, Golovkin had to take some time off after his first fight of the year after his father unexpectedly passed away in his home country of Kazakhstan.  It was announced earlier this week that K2 Promotions, who handle the career of the undefeated thirty-two year old, and the StubHub center will release nearly three hundred more tickets on sale later this week for the already sold out event.
In his first fight this year, Golovkin went some rounds for his standards taking seven of them to stop Osumanu Adama in Monte Carlo.  In his second go-around of 2014 Golovkin needed only half the time to knock out former world champion Daniel Geale who was dropped at 2:47 mark of the third round at the Madison Square Garden.
The event Saturday night is billed "Mexican Style", not so much for Golovkin's opponent who actually is a Mexican but perhaps for Golovkin's style of going to the body or that the organizers consider the match up a Mexican type of standoff. Whatever the case, Golovkin will have much to prove this upcoming October 18th.
Many fans and media alike don't give Rubio much of a chance.  A lot of them believe the thirty-four year old veteran of sixty-six fights over a professional career that spans fourteen years might be just too shop worn for the powerful Golovkin.  Despite only being two years older, Rubio, like Mexican fighters, did not enjoy the long amateur career that Golokvin did and went pro at the age of sixteen.  What Rubio does have is experience at the professional level, a sturdy chin and a fair amount of heart.
Unfortunately for Rubio, that might not be enough against Golovkin.
Golovkin has proven to be too much for anybody who is willing to face him.  Not many of the elite fights have shone any willingness to do it.  Even though many of them have said they would, none of them take the necessary steps to actually do it and super middleweight champion Carl Froch has even gone on record to state that he is not willing to face him.
That is why Rubio needs to be commended for actually agreeing to face "GGG".  Throughout his career has proven to no shy away from tough fights despite losing many of them including against Kofi Jantuah, Julio Cesar Chavez Jr and Kelly Pavlik, he has also won many of them with his biggest win being over David Lemieux.
On Saturday night we'll see if Golovkin is good enough to defeat a veteran like Rubio but also if he truly deserves the attention he is getting from the west coast.
---