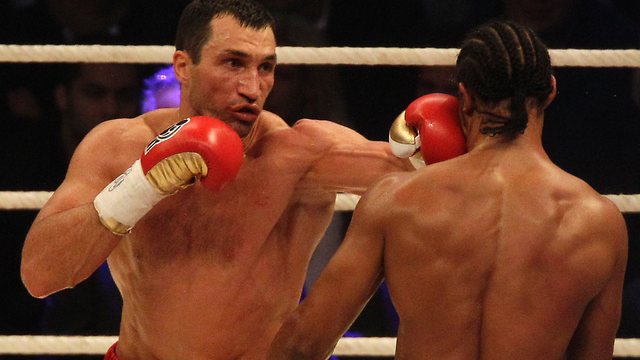 This Saturday night from the mecca of boxing ,Madison Square Garden in New York City, quite possibly the most dominating champion in the last ten years, heavyweight WBO/IBF/WBA world kingpin Wladimir "Dr. Sledgehammer" Klitschko, makes his long-awaited return stateside in yet another defense of his belts, this time against American Bryan Jennings.  The fight will be broadcast live on HBO.  Klitschko, the new father of a bouncing baby girl with actress Hayden Panettiere, comes into the contest with an impressive record of 63-3, 53KO while Jennings is undefeated in nineteen contests with ten of them before the distance.
So how did Jennings find himself in this predicament? He might not think it's a problem now but come Saturday night when the 6'3" Jennings is across the ring from the towering Klitschko at 6'6", he will start to believe it.
The thirty-year old Jennings began his career in 2010 at the age of twenty-five. A natural athlete, Jennings biggest drawback is his activity which is not much, averaging roughly four fights a year.  That is all fine and dandy when you reach the elite level but not when you first begin your career.  Case in point, Jennings last fight was in July of 2014.  That is nearly a year without stepping into a ring.  You might argue that Klitschko's luck did not fare much better since his last fight was in November but that is truly comparing apples to oranges.  Klitschko, at thirty-nine years of age, has more than triple the number of fights than Jennings.  In a sport that puts such emphasis in experience, that is a major advantage.  At this point of his career, one that he has not tasted defeat longer than Jennings has been a professional fighter, the champion can take luxuries.
Klitschko has not fought in the United States since 2008 when he defeated Sultan Ibragimov via a unanimous decision at the same venue where he will perform on Saturday night.  After that Klitschko has mostly fought in Germany.  HBO, in no uncertain terms, quietly got out of the Klitschko business after the talent pool in the heavyweight division got very shallow and Klitschko handily dominated his opponents without much fireworks although ending many of the fights via knockout.  Recently though HBO gave it another go and began to broadcast the Klitschko fights from Germany without sending out a crew to Europe and thus saving some money.
So what is the problem with the way Klitschko wins?
It's the same way every time and it is expected to repeat this Saturday night.  There is no secret to the Klitschko strategy.  Hypnotize your almost always slighter shorter opponent with a long jab, almost throwing and scoring exclusively.  If the opportunity arises, then you drop the sledgehammer, a long and powerful right hand, early on and finish the night nice and early.  If the chance doesn't come early, then wait until the second half of the fight when your opponent is frustrated and tired from trying to get on the inside and then begin to throw the right hand.
It's as simple as that.
---