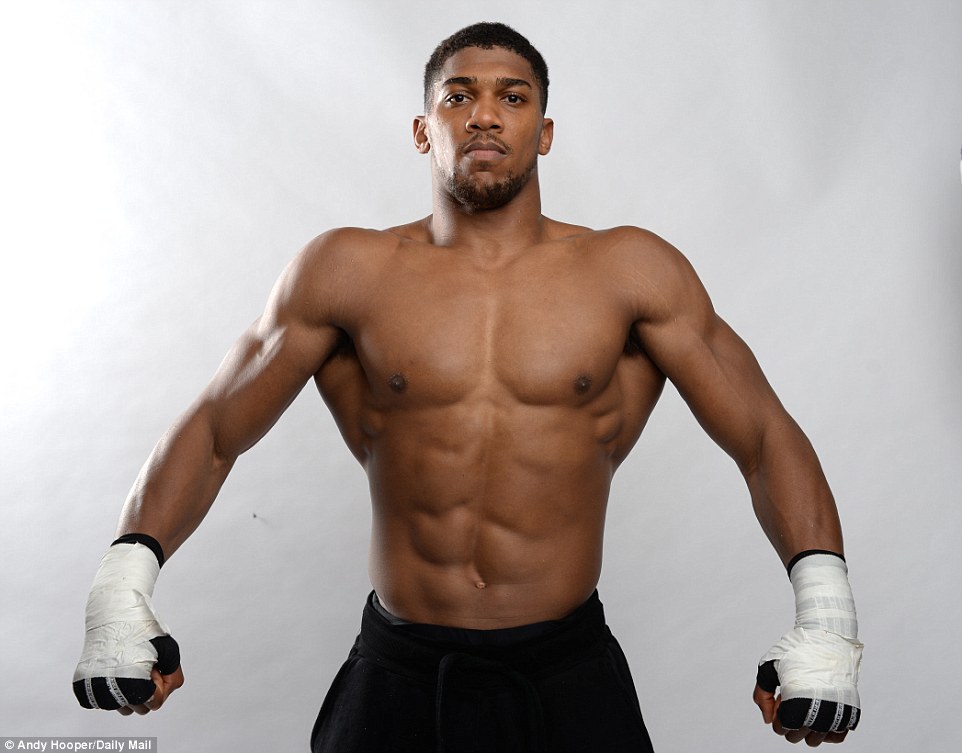 The British Heavyweight boxing history has had its share of success over the years. Immediately the name of Hall of Famer Lennox Lewis may jump out at you. Lewis fought the best of his era. He also unified the division titles and retired on top. In this years that followed David Haye was able to beat the odds and move up from the Cruiserweight division to win a world title at Heavyweight. It's looking more and more like 6′ 9″ unbeaten Tyson Fury will get his chance at the throne vs. current unified champion Wladimir  Klitschko before the year is out. The fight could actually land in the United Kingdom.
Former British Olympic gold medalist Anthony Joshua is rapidly being moved along and groomed to be British next big thing.  If Physiques won you world titles the  6′ 6″ Joshua would be undisputed heavyweight champion of the world right now.   He is completely chiseled and from a glance doesn't appear to have an ounce of fat on him. He signed with Eddie Hearn's Matchroom Sport in July of 2013.  Joshua quickly showed that he was much more than some sculptured like nice body.  He has racked up a set of wins which has him unbeaten at (12-0 , 12 KOs). His promoter thinks so much of his talent that he even put out a challenge to Fury last year. Joshua has fought the usual journeyman that a prospect does in the development stage but the manner of which he is dispatching them is what has the locals talking. His next fight is scheduled for May 30th and it will answer a  lot of questions about him. He will face veteran and former world title challenger Kevin Johnson from the U.S. who has never been down let alone stopped inside the distance.
Joshua has so many different possibilities for his future. Domestically alone there are quite a few solid tests. Former world title challenger and fellow UK native David Chisora always comes to fight and at worse is very durable for the most part. David Price has been rebuilding since his back to back losses to Tony Thompson.  Thompson though from the U.S. is very fresh in the minds of British boxing fans due to his destruction of David Price twice. He could be a very serious test for Joshua and one that Joshua's  promoter may or may not feel that he is ready for. The bigger showdowns would be vs. Fury or perhaps even a come backingHaye in 2016. Options are something that Joshua is not at a loss for. Time will tell how he will respond when he is presented with his step up challenge.
---