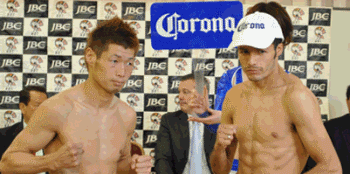 No it's not Maidana vs. Morales. It isn't the James Kirkland fight or Lemieux vs. Rubio. No folks. The best fight of this week is going to be at the World Memorial Hall, in Kobe, Hyogo, Japan. The fighters? Bantamweight bad asses Hozumi Hasegawa (29-3 with 12 KOs) vs. Jhonny Gonzalez (47-7 with 41 KOs).
This one is going to be all out war. Maybe a round or two of a feeling out process but then it will explode. I watch The Next Round every week and Steve Kim's sidekick Gabriel Montoya made a good point that Gonzalez has a lot of trouble with southpaws. The majority of his losses have come against them. That is probably going to be huge here because Hasegawa is a southpaw.
http://www.youtube.com/watch?v=dXyMojH38wo
Most of you probably saw Montiel knock Hasegawa out last year and that's the extent of your knowledge of him.
But you have to think that Montiel is a guy with power in both hands that has stopped a lot of fighters as good or better than Hasegawa. No shame in that loss. Maybe Hasegawa has not recovered but I think he took a long break for a reason and it was smart to do it.
Gonzalez on the other hand is a guy with a lot of losses in big fights and some not so big.He was beating Israel Vasquez and then he went to war and got knocked out.
http://www.youtube.com/watch?v=h7sCdRKXTJo&feature=fvsr
He actually outboxed Montiel years ago, too which makes this fight even more interesting.
Both guys like to get down and dirty. Both guys have advantages (Gonzalez is the taller lankier guy to Hasegawa's power, speed and quickness). But in the end I think it comes down to Hasegawa being fresher.
Give me Hasegawa by late knockout when Gonzalez fades and trades too much.
What say the fans?
---